6 October 2021 | 3:34 PM - 19 October 2021 | 4:00 PM
REQUEST FOR PROPOSAL | ILO
Working conditions and farm level interventions development in agriculture in Iraq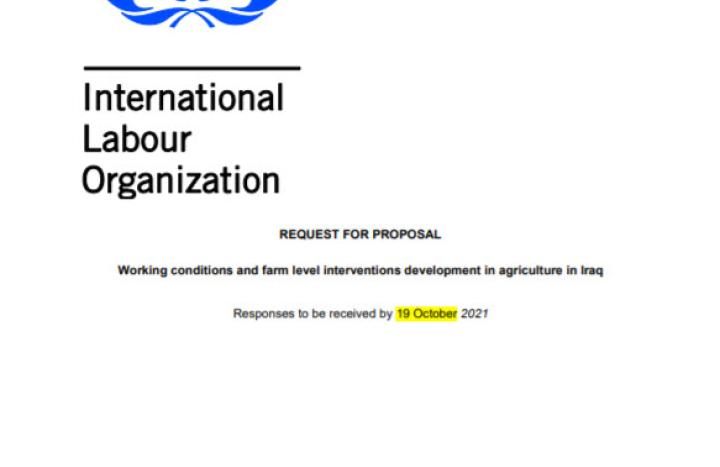 UN entities involved in this initiative
ILO
Sustainable Development Goals
Partnerships for the Goals
Contact information
Email to: hamad@ilo.org and khidhir@ilo.org
6 October 2021 | 3:34 PM - 19 October 2021 | 4:00 PM
About the initiative
Subject: Working conditions and farm level interventions development in agriculture in Iraq
Request for Proposal (RFP) N°: RFP/ILO Labour Governance/Iraq/2021/1
Date: 5/10/2021
Dear Sir/Madam,
The International Labour Office (hereinafter the "ILO") is pleased to invite your company to submit a Proposal for Working conditions and farm level interventions development in agriculture in Iraq and as further described in Annex III.
To enable you to prepare and submit a Proposal, please find enclosed the following Annexes: - Annex I: Instructions to Bidders;
Annex II-A: Acknowledgment of Receipt;
Annex II-B: Bidder's Declaration Form;
Annex II-C: Bidder's Information Form;
Annex II-D: Recent References;
Annex II-E: Technical Proposal;
Annex II-F: Financial Offer;
Annex III: Terms of Reference; and
Annex IV: Terms and Conditions applicable to ILO Contracts.
Your Proposal must be received by the ILO no later than 4 PM Baghdad time on 19 October 2021. Late bids shall be rejected.
You may submit a Proposal to the ILO provided that your organization is qualified, able and willing to deliver the goods, works and/or services specified in this RFP. Participation in this RFP indicates acceptance of the Terms and Conditions applicable to ILO Contracts provided in Annex IV. Failure to comply with the requirements of this RFP and its Annexes may render a Proposal ineligible for consideration. We look forward to receiving your Proposal.
Background documents
Documents
06 October 2021