15 January 2022 - 29 January 2022
Call for Expression of Interest | ILO
External Collaboration: TOR for updating the Iraqi Labour Inspection guides and manuals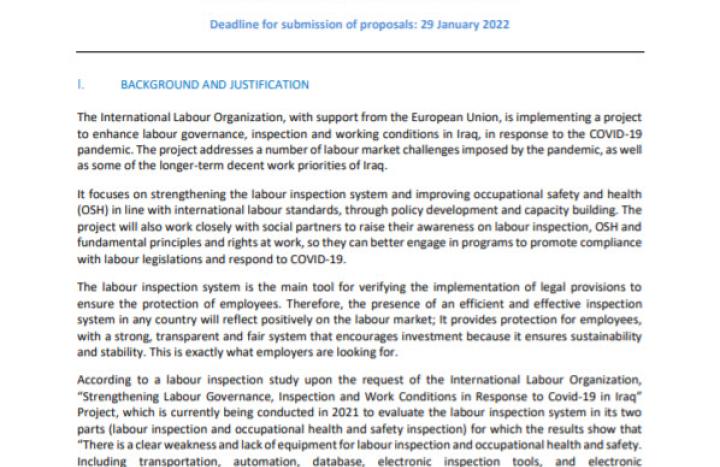 UN entities involved in this initiative
ILO
Sustainable Development Goals
Partnerships for the Goals
Contact information
khidhir@ilo.org and al-hashamat@ilo.org
15 January 2022 - 29 January 2022
About the initiative
BACKGROUND AND JUSTIFICATION
The International Labour Organization, with support from the European Union, is implementing a project to enhance labour governance, inspection and working conditions in Iraq, in response to the COVID-19 pandemic. The project addresses a number of labour market challenges imposed by the pandemic, as well as some of the longer-term decent work priorities of Iraq.
It focuses on strengthening the labour inspection system and improving occupational safety and health (OSH) in line with international labour standards, through policy development and capacity building. The project will also work closely with social partners to raise their awareness on labour inspection, OSH and fundamental principles and rights at work, so they can better engage in programs to promote compliance with labour legislations and respond to COVID-19.
The labour inspection system is the main tool for verifying the implementation of legal provisions to ensure the protection of employees. Therefore, the presence of an efficient and effective inspection system in any country will reflect positively on the labour market; It provides protection for employees, with a strong, transparent and fair system that encourages investment because it ensures sustainability and stability. This is exactly what employers are looking for.
According to a labour inspection study upon the request of the International Labour Organization, "Strengthening Labour Governance, Inspection and Work Conditions in Response to Covid-19 in Iraq" Project, which is currently being conducted in 2021 to evaluate the labour inspection system in its two parts (labour inspection and occupational health and safety inspection) for which the results show that "There is a clear weakness and lack of equipment for labour inspection and occupational health and safety. Including transportation, automation, database, electronic inspection tools, and electronic interconnection between departments". And for this, enhancing labour inspection effectiveness and improving OSH, through developing and using modern inspection tools, among other relevant measures, would contribute to the protection of labour rights and ensuring safe and healthy working environment.