Speech
Remarks by SRSG Jeanine Hennis-Plasschaert at the Gender Equality & Women Empowerment Strategies conference Erbil, Kurdistan Region | 28 November 2021
Excellencies,
Ladies and gentlemen, 
Distinguished guests,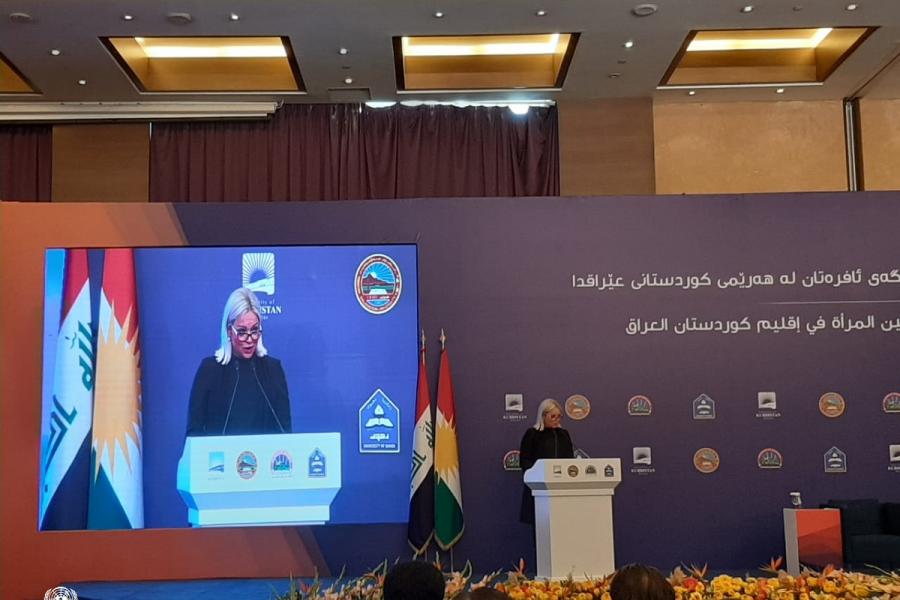 It is an honour to address you today, and I thank the four universities for the opportunity to share some reflections and recommendations on this all-important policy priority.
At the outset, and through the lens of the recent parliamentary elections, let me begin by sharing some moderately encouraging news with regards to women's political participation in Iraq. 
Nearly 30% of candidates (in the October elections) were women, and preliminary results indicate that there'll be a historic number of female members of parliament in the next Council of Representatives: above and beyond the 25% minimum required. 
Now, the willingness and ability of women to participate in these elections - be it as campaigners, activists, candidates and of course voters - is not only a good sign but also much needed.
Much needed…as, and I quote Michelle Obama, no country can ever truly flourish if it stifles the potential of its women and deprives itself of the contribution of half its citizens.  
Ladies and gentlemen,
Speaking in the Kurdistan Region today, I would (of course) be remiss not to point out the pioneering role played by female politicians in this region, which has long led the country in terms of the quantity and quality of female political representation.
And as a woman who also blazed a political trail in my home country, I know how important it is for young women and girls to have role models to look up to as they aspire to positions of leadership, including in politics. I truly believe that today's women in public office are the role models for tomorrow's generation of leaders. 
Also on the policy and legislative side, a lot has been done in the Kurdistan Region. From doing the obvious, for instance by institutionalizing gender issues, to all kinds of legal reforms such as the one addressing polygamy.
But let's face it: the growing assertiveness of Iraqi women in Iraqi political life is not yet a given. On the contrary. Past and present experience on the ground tell us that lots of work lies ahead of us. 
Not only to ensure the elimination of all existing barriers for women to realize their political rights, but also to work towards gender balance in decision-making positions.
I mean, of all the names being mentioned for the position of Prime Minister, Speaker or President…perhaps I missed something…but so far, I haven't heard one female name.
What we do observe, however, is (to put it mildly) a rather challenging environment.
The thing is: when we speak about a challenging environment, when we speak about gender-based intimidation or violence - we often immediately think of the use of physical force. Understandably so.
But as I have said on many occasions: gender-based intimidation and violence take many subtle forms.
Yes, certainly, there are the overt and explicit threats, but also implicit threats of, for instance, social exclusion and rejection. All of this with the intention to degrade, demoralize or shame women. It happens at home, in the community, in public and online.
Having said this, I cannot overstate that these kinds of acts are too often downplayed or even utterly dismissed: the situation is not that bad, mu mushkila, gwey pe mada!
But let it be clear: such acts do deter women from considering running for office or pursuing positions of leadership.
And that's not even mentioning so-called flirtations and off-colour remarks: about her looks, the length of her skirt, or the way she walks and talks. Needless to say, similar comments would never be made about men.
Like it or not, sexism also takes many subtle forms. Again, deterring women from fulfilling their professional and public aspirations.
Now, here is something I learned the hard way: ambitious women need to develop thick skin. That goes for women across the globe, including Iraq.
Recently, in a lowly attempt to land an insult, I was referred to as that "old" woman. Ageism and sexism, a two-for-one combo. Let's not kid ourselves: a man of my age would be referred to as young or, if anything, as wise and experienced. Also, those trying to land an insult were clearly not bothered by the fact that most of my male counterparts and interlocutors are at least a decade older than me.
Ladies and gentlemen, in light of the long list of distinguished speakers today, I do not wish to dwell on policies, milestones and legislations. 
Instead, I would like to emphasize the importance of an event like this. This is especially welcome as there continues to be a true need to recognize the plight and rights of women. In so many ways, in so many countries. 
A timely event as well, as we are currently in the middle of 16 Days of Activism Against Gender-Based Violence, which kicked off 3 days ago and will culminate on December 10, Human Rights Day. And this year's theme is "Orange the world! End violence against women now", which makes me particularly happy as orange happens to also be the national colour of my native Netherlands.
At the same time, however, I would like to warn against conferences, speeches and reports as mere window dressing. At the end of the day, it is all about getting things done, about making a real difference in the lives of women and girls.
Take, for instance all the Iraqi women and girls suffering from physical and mental abuse, who are still waiting for the Anti-Domestic Violence Law to be enacted, let alone implemented. Here again, the comparatively advanced status of legislation in the Kurdistan Region must be recognized and commended.
Ladies and gentlemen, I also have a message to all ambitious women out there: do not feel discouraged by the generation of men that currently holds the reins of power.
True, their old boys' network could be seen as the world's biggest cartel, spanning the globe. And yes, many of these men could truly use some humility, integrity and self-awareness. I also agree that gender too often seems more important than talent or merit.
But you know what: the era of men telling us "we know what is good for you, woman"; that era will only end if you end it yourself. And therefore, I can only urge each and every woman to speak up.
Wear your heart on your sleeve. Aspire openly to leadership roles. Go where no woman has gone before. Have no fear, but do develop the thick skin I mentioned earlier. And I can only underline the importance of taking pride in those women and girls stepping up to claim their rightful place in society. 
You know, I was the first Dutch female Defence minister, and am now the first female Special Representative of the UN Secretary General in Iraq. On both occasions, many men confessed (not immediately, but later on) that their initial thought was: wallah, why is this happening to us?! 
But as time passed, they got used to me. I didn't wait for permission or for male endorsement, and today, female leadership is a well-entrenched fact within the UN in Iraq: not only myself but both of my Deputies, as well as many leaders of the UN funds, programmes and agencies, are accomplished women in senior decision-making roles.
Ladies and gentlemen, in closing, let me say the following: men and women are wired differently. There is no denying it. And there is no need to deny it.
The fact is that men and women have different capacities and both bring different qualities and solutions to the table. They can and must complement each other.
It is therefore high time to overcome dusty notions of leadership. It is high time for both the public and private sector to expand and to restructure, to attract, retain and empower competent women. 
I tell you in all certainty that this can be done. In fact, we need look no further than around us here, right now: given the amount of decision-making power in this room, men and women, we can greatly advance this cause. With resolve and determination, and with a shared commitment by us all.
Thank you.
Speech by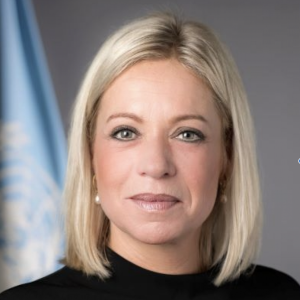 Jeanine Hennis-Plasschaert
UNAMI
Special Representative of the UN Secretary-General for Iraq
UN entities involved in this initiative
UNAMI
UN Assistance Mission for Iraq