Story
Gardening project empowers IDP women in Akre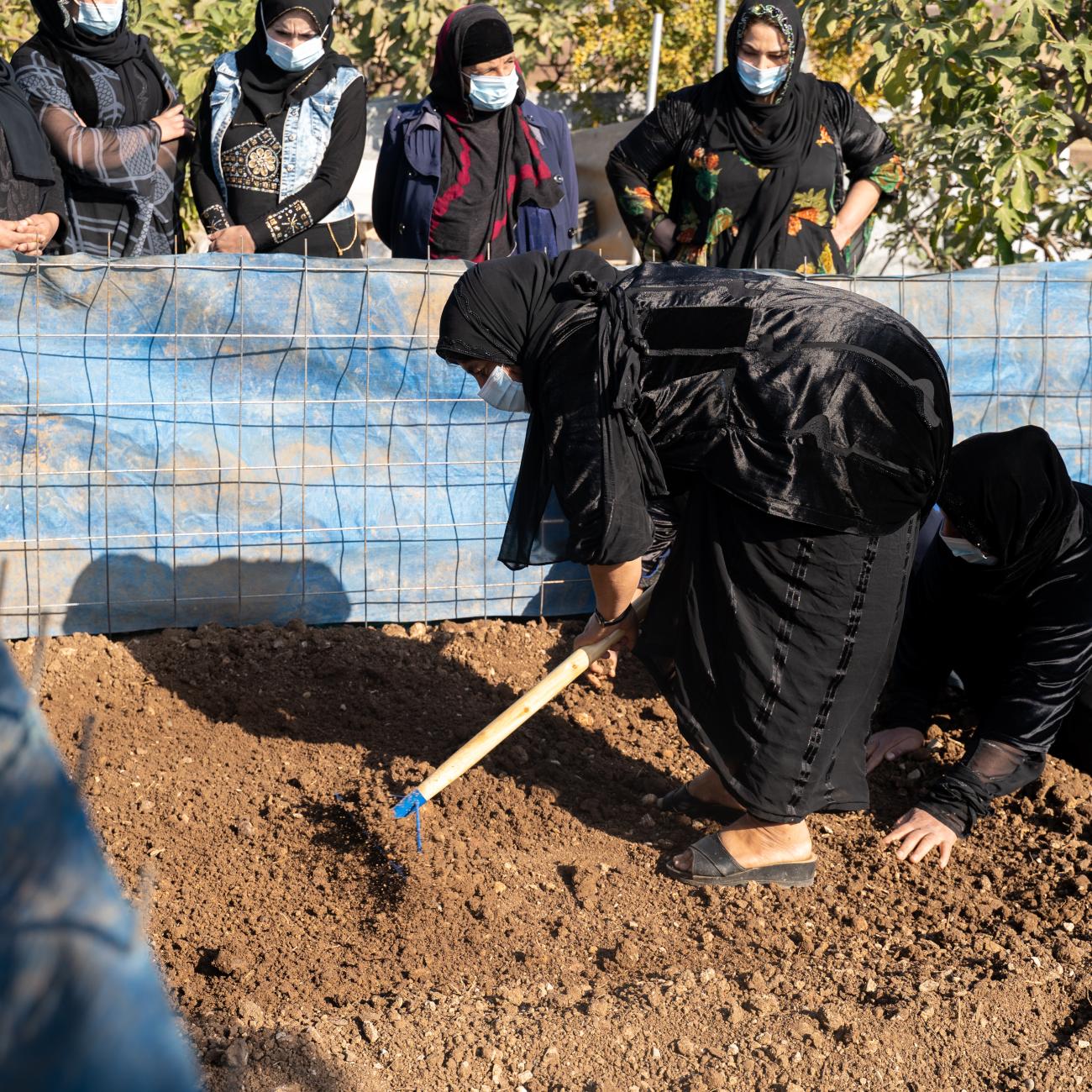 Gardening project empowers IDP women in Akre
A UNIDO programme funded by the Government of Japan is providing displaced women in Akre with vital skills to be able to grow their own produce and support their families.
Mamilian IDP camp, where the din of chatter is overshadowed by the hum of tractors ploughing the adjacent fields, will soon be home to 80 vegetable gardens, run by the women of the camp. Most of the camp residents are from Nineveh who fled the ISIS onslaught in 2014.
Mayan Ismail, a mother of five from Bashiqa, used to travel around northern Iraq, working in farmlands in Rabia, a town on the Syrian border well-known for its agricultural produce. One of 80 women participating in the project, she now has the tools she needs to grow a variety of produce, just as she did at home in Bashiqa.
"Most of the people here are jobless. This is a good training course because it provides income for our families. Some women are widows, and the heads of their households, and they don't have a source of income," she said.
Home to 170 families, the camp is located down a remote dirt path overlooking farmland near the town of Akre. Its location, and lack of amenities, makes basic tasks difficult for camp residents. Mayan says she has to hitchhike from a nearby highway to be able to buy food. Now, she is planning to grow beans, onions, and garlic over the winter months in the large allotment allocated to each woman.
On the final day of the week-long training course, the women gather around a square plot of bare land where three of their colleagues rake the soil, turning over stones as the trainer provides some final advice. Thanks to UNIDO, the Japanese Government, and the Camp Management, the women will have piece of land to grow their vegetables with a set of gardening equipment and vegetable seeds for four full seasons.
"The project is very good. It really benefited us a lot," said Sabre Murad, who fled to the camp from Mosul seven years ago. "As you can see, we live in tents. It is a very poor and difficult life. Now, I can both sell and eat my produce."
Sabre is excited to be able to provide further support for her family of five children, and take sole control of the allotment. Each woman is given her own space next to her living quarters.
"It gives me independence," she said.
The UNIDO project is a lifeline for women in the camp, according to camp manager Mohammed Mutalib, and has been designed to involve a woman from each of the 170 families, providing them with business and marketing training, advice on how to grow produce, garden equipment, and information on COVID-19 mitigation.
"We don't have many organizations working here, just UNIDO and UNICEF. World Vision provides cash aid," he said. "Most of the women here are asking for training courses. They say that men can work, but that women need this training."
UN entities involved in this initiative
UNIDO
United Nations Industrial Development Organization