Story
Weaving for a new Iraq: Durable solutions for women's livelihood in Kirkuk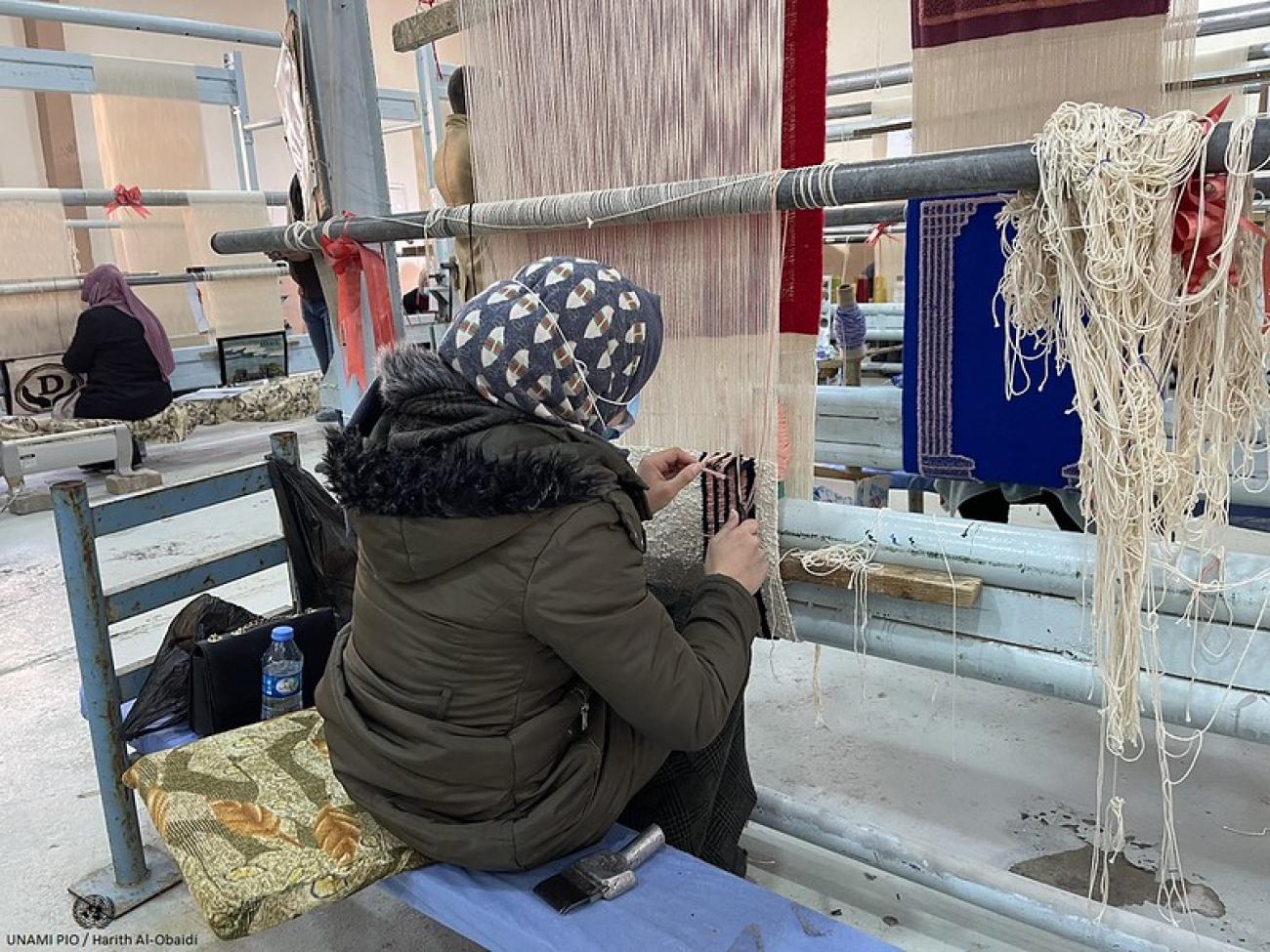 On 24 January 2022 UNAMI's Development Support Office visited the Kirkuk Carpet Factory to explore livelihood opportunities for IDPs.
The Director of the Carpet Factory briefed about the latest innovative partnership with UN-Women entitled: Women's Leadership, Empowerment, Access and Protection (LEAP II). This project is implemented by the Women Leadership Institute with generous funding provided by the Government of Japan.
The traditional art of carpet-weaving is recognized as an intangible cultural heritage. Hand-woven carpets are more expensive, but of higher quality than mass-produced ones. Director Muhanad demonstrated this by showing the visiting delegation a hand-woven rug and that looked fabulous, and then revealed…that it was over 100 years old! By comparison, a machine-woven rug already showed signs of wear and tear after just 2 years of use.
UN-Women is supporting the Kirkuk Carpet Factory through its innovative LEAP II project modality. This allows 20 young apprentices to learn the ancient art of carpet weaving from master-weavers. The project involves skills-transfer, heritage preservation, vocational training and livelihoods generation. The apprentices were selected from among the rich tapestry of different ethnic communities, IDPs and people with disabilities in Kirkuk.
Ms. Hanim, one of the most talented apprentice-weavers is deaf. Yet this is not a handicap at all! Ms. Hanim weaves beautiful, complex 300-knot creations without losing her laser-sharp focus on the design. The Director noted that he received over 200 applications and competition for the 20 available slots was fierce. Interestingly, despite the high pay and good working conditions, no men applied for the apprenticeship programme.   
The preservation of cultural heritage mixed with marketing and design could form the basis of an excellent livelihood project for the returnee community. Kirkuk would like to see more of these kinds of innovative vocation-apprenticeship programmes for women in Kirkuk, particularly in the Science, Technology, Engineering and Math (STEM) field.
Director Muhaned explained that until the 1990s, Iraq produced the most beautiful, hand-woven carpets that were much prized by foreign dignitaries and businessmen. Even Turkish traders bought carpets in Iraq at the time. Unfortunately, decades of sanctions and civil war have decimated the Iraqi carpet trade. From the 7 officially licensed state companies, only the ones in Kirkuk, Baghdad and Babylon are still left.  Currently, the State Company for Hand-Woven Carpets falls under the Ministry for Industry and Minerals, which is not very interested in promoting and marketing Mesopotamian carpets as an international brand. It was suggested that perhaps hand-made carpet workshops might be better regulated under the Ministry of Culture, so that the link with the UNESCO intangible heritage can be made. That way, Iraqi carpets can be marketed as cultural artifacts, both at home and abroad.   
A suggestion that could help in this regard would be for the Kirkuk Carpet Factory to expand their production with an internet-based app that could allow customers (from all over the world) to upload a picture or design that they wish to turn into a carpet, hand-made and ready-to-order within 15 days. Regrettably, no tourist agencies or freight shipping companies operate in Kirkuk yet to make these kinds of entrepreneurial initiatives possible, and many beautiful hand-woven carpets go unsold.
By:  Martijn Dalhuijsen, UNAMI
Photos:  Harith Al-Obaidi, UNAMI
UN entities involved in this initiative
UNAMI
UN Assistance Mission for Iraq