Speech
Remarks by Mr. Riccardo Ceva, Head of UNAMI Kirkuk Office a.i. at event marking International Dwarfism Awareness Day
25 October 2022
Kirkuk, Iraq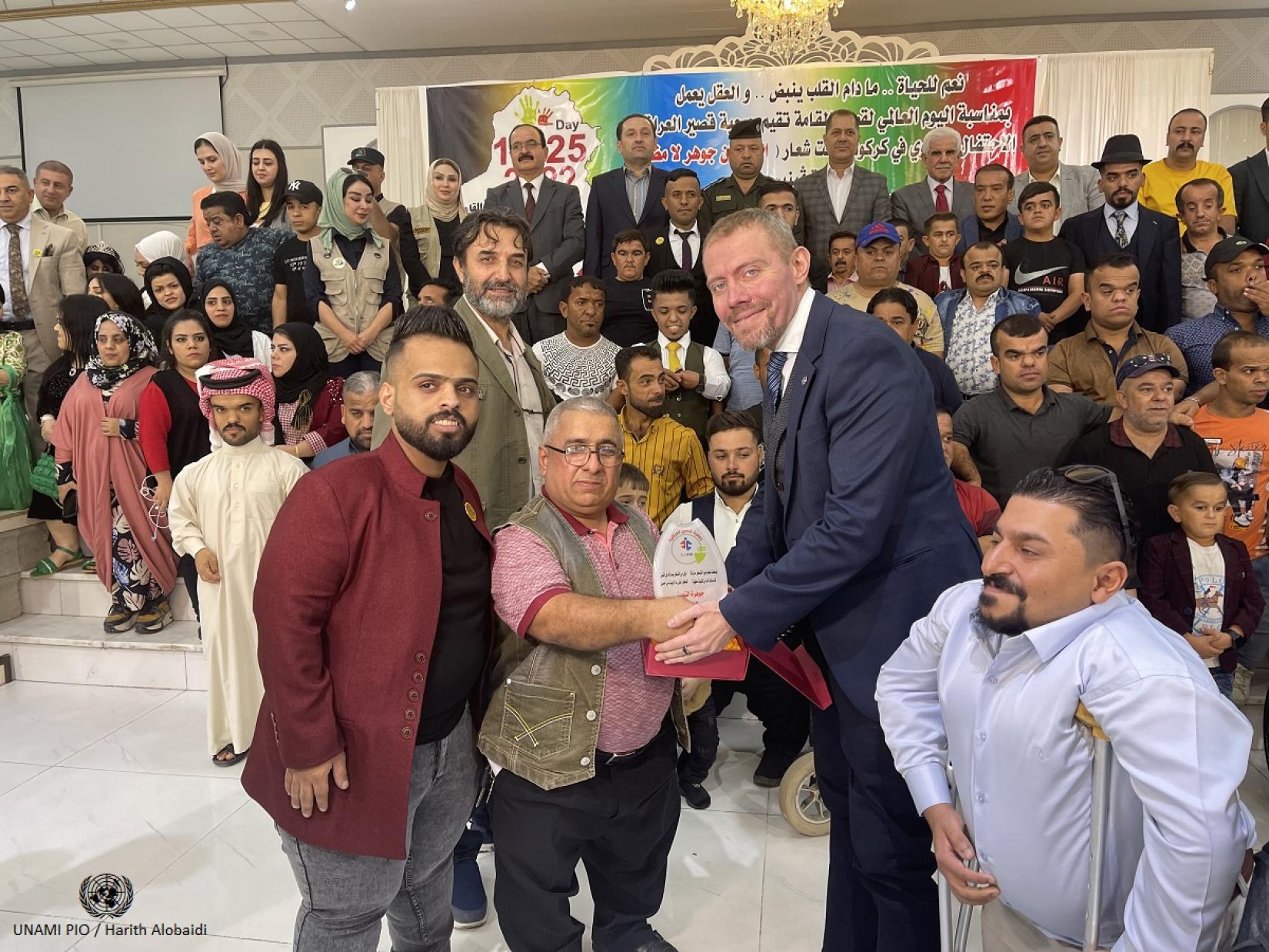 Ladies and Gentlemen,
Distinguished guests,
25 October of every year is International Dwarfism Awareness Day.  The Day is not just about the height of a person; it's more than that.  It is a Day about how a unique community overcoming physical barriers and exclusion to seize opportunities and progress.  It is a day to raise awareness about the challenges faced and to promote an inclusive society in all aspects of daily life from representation in the political sphere to economic prosperity. 
The United Nations promotes respect for the human rights of all people ensuring the fundamental principles of equality, inclusivity and non-discrimination are applied for the realization of economic, social and cultural rights, in the delivery of services for those in need and inclusive participation of people of all backgrounds in decision-making processes.  
The UN Disability Inclusion Strategy (UNDIS), adopted by the Secretary General in 2019, provides the foundation for sustainable and transformative progress and approach on disability inclusion through all pillars of the work of the United Nations: peace and security, human rights, and development.  Through this Strategy, the United Nations system reaffirms that the full and complete realization of the human rights of all persons with disabilities is an inalienable, integral and indivisible part of all human rights and fundamental freedoms. The Strategy aims to strengthen accessibility for persons with disabilities and the mainstreaming of their rights, and includes a system-wide policy, an accountability framework and other implementation modalities.
The strategy will systematically embed the rights of persons with disabilities, including those affected by Dwarfism, into UN work, both externally, through programming, and internally through necessary technical support and advice, and will build trust and confidence among persons with disabilities to ensure that they are valued and their dignity and rights are respected and that, in the workplace, they find an enabling environment in which to fully and effectively participate on an equal basis with others.
Article 27 of The Convention on the Rights of Persons with Disabilities (CRPD) states that persons with disabilities have the same right to work and get jobs as everyone else.  Furthermore, the motto of the United Nations Sustainable Development Goals (SDGs) is "Leave no one behind"; and SDG Number 8 is specific to ensure employment and decent work for all people, including those with disabilities. 
Since its establishment in 2003, UNAMI has worked to promote and defend the human rights of all Iraqi citizens without distinction. In this context, the UNAMI Office in Kirkuk engaged in several meetings with people with disabilities and, more recently, launched an internship opportunity for people with disabilities to give them a chance to experience how the UN operates in the field.  It is with such steps that we affirm our commitment to provide persons with disabilities with opportunities for participation on an equal footing with all other Iraqis to ensure they are able to enjoy the same standards of equality, rights and dignity as everyone else. 
Thank you.
UN entities involved in this initiative
UNAMI
UN Assistance Mission for Iraq