Press Release
UN's Kubiš Urges Government to Address People's Concerns, Avert Violence and Political Actors to Work towards Long-term Solutions
17 July 2018
Baghdad, 17 July 2018 - Following the demonstrations over the lack of services, job opportunities and to demand improved living conditions, the Special Representative of the United Nations Secretary-General (SRSG) for Iraq, Mr. Ján Kubiš, urges the government to fully respect and address the people's legitimate concerns.
He calls on the political actors to ensure that the next administration prioritizes good governance, reforms and the fight against corruption that will enable economic development and progress, job creation and delivery of critical public services.
At the same time, the Special Representative is deeply concerned about violence as well as acts of vandalism which accompanied some of the otherwise largely peaceful public protests. He regrets the loss of life and numerous injuries on the side of both protestors and security forces and the destruction of public and private property including offices of government institutions and political parties as well as oil and public infrastructure. Such developments, if continuing, would have a harmful impact on the security and economic situations throughout the country.
Mr. Kubiš underscores the inalienable right of the people to freedom of expression, including to partake in peaceful demonstrations without fear and intimidation or arbitrary detentions while abiding by the law, and to have unfettered access to information. It is the duty of the authorities to enable such lawful demonstrations and to protect their participants. While maintaining law and order the security forces must exercise restraint and avoid use of excessive disproportionate, lethal force. He also warns against allowing intruders and opportunists to exploit the otherwise legitimate demonstrations for their political purposes, to trigger disturbances.
Iraq has just started recovering from the destruction caused by the terrorist Dae'sh while still fighting its remnants and sleeper cells. The people of Iraq badly need sustainable, long-term stability that can only be achieved by all actors coming together to find solutions to some of the country's persistent problems that i.a. repeatedly prompted the recent and previous protests. Following the 12 May general elections and after the early conclusion of the recount of fraudulent and suspicious ballots and official certification of the election results, it is imperative to expeditiously install a new inclusive and pro-reform patriotic government that will put the rich resources of the country at the disposal and for the benefit of its own people. Such a government will be able to deliver on the people's demands and answer their aspirations of boosting economic performance, creating jobs, improving services, fighting corruption and instilling hope of decent and dignified life for the youth, for all Iraqis.
UN's Kubiš Urges Government to Address People's Concerns, Avert Violence and Political Actors to Work towards Long-term Solutions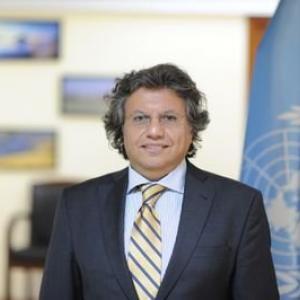 Samir Ghattas
UNAMI
Director of Public Information/Spokesperson United Nations Assistance Mission for Iraq
UN entities involved in this initiative
UNAMI
UN Assistance Mission for Iraq
Goals we are supporting through this initiative