The Resident Coordinator Office in Iraq
The Resident Coordinator Office in Iraq
The General Assembly Resolution 72/279 on the repositioning of the United Nations Development System mandates bold changes for the emergence of a new generation of Country Teams, centered on a strategic programme with the Government and led by an impartial, independent and empowered UN Resident Coordinator to deliver on the 2030 Agenda for dignity, prosperity and peace on a healthy planet.
The integrated office of the Deputy Special Representative of the Secretary-General, Resident Coordinator and Humanitarian Coordinator (DSRSG/RC/HC) coordinates the work of the UN in Iraq on its development, humanitarian and reconstruction mandates in support of the strategic priorities of the UN Sustainable Development Cooperation Framework (UNSDCF, formerly UNDAF) for Iraq 2020-2024 in line with Iraq's national priorities and in accordance with the National Development Plan and the Sustainable Development Goals. The office facilitates establishment and implementation of mechanisms that ensure all members can fully participate in UNCT consultations and decision-making processes and are informed through regular information sharing.
The Office of the UN Resident Coordinator in Iraq fulfills the following key functions in support of the responsibilities of the RC/HC:
(1) Strategic planning;
(2) Partnerships and development finance;
(3) Data and results management and reporting; and
(4) Communications and advocacy.
The Office of the DSRSG/RC/HC in Iraq has currently five core staff members, all seeking to enhance UN coherence and improve overall programme impact to better achieve results:
Brian Mau, RCO Team Leader and Strategic Planner;
Irene Bernabeu, Partnerships and Development Finance Officer;
Zainab Salih, Communications and Advocacy Officer;
Ahmed Shakir, Data Management and Results Reporting Officer; and
Maysam Al-Bairaqdar, Administrative Assistant.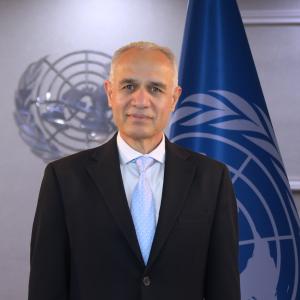 Ghulam Mohammad Isaczai
Deputy Special Representative, Resident Coordinator, Humanitarian Coordinator for Iraq