Story
Press Conference | OPENING REMARKS BY JEANINE HENNIS-PLASSCHAERT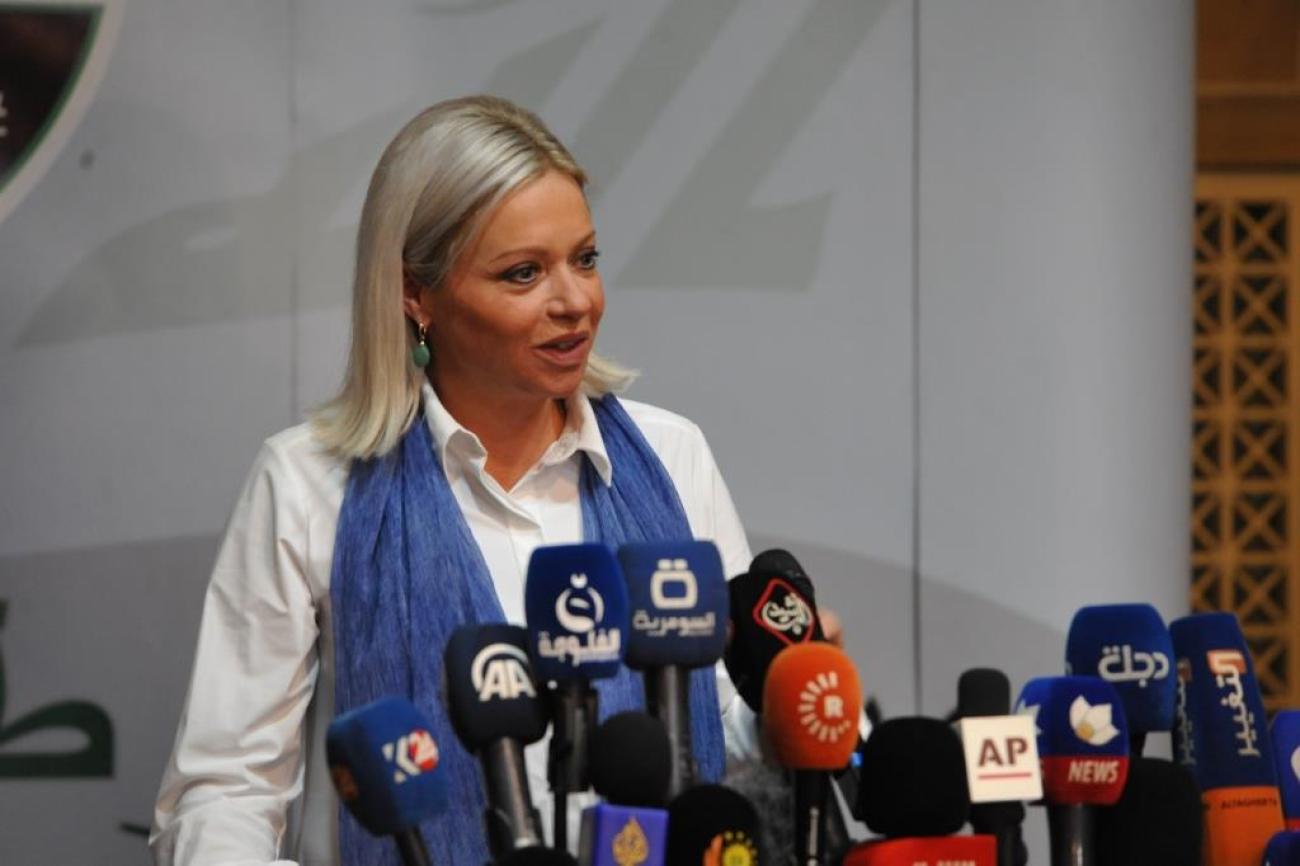 Good day everyone. Many thanks for being with us this morning, only five days away from Iraq's all-important elections.
I would like to start by echoing the wise words of Grand Ayatollah Ali al-Sistani, who (last week) encouraged everyone to "participate consciously and responsibly in the upcoming elections - as it remains the safest way to cross the country into a future that is hoped to be better than the past, and through it, avoids the risk of falling into the abyss of chaos and political obstruction".
I could not agree more.
Now, in the lead-up to the elections, the United Nations has reached out to, and engaged with, many Iraqis: Iraqis from all walks of life.
We exchanged views on the importance of voting, on their concerns, on their hopes and dreams. And yes, of course, concerns were expressed over the possibility of fraud, the role of non-state actors, and (for instance) the issue of foreign interference. And I will not surprise you if I say that many also demonstrated clear feelings of disillusionment.
At the same time, many, many Iraqis also emphasized the need for these elections to take place in order to move from a prolonged political standstill to finally addressing the urgent challenges facing Iraq, including the desperate need for economic reforms but also (and importantly) the need for justice and accountability.
Of course, they did not refer to just any election. They referred to credible and transparent elections, noting that they do understand that this does not necessarily mean that the outcome of the elections will be precisely what they are hoping for.
Now, why am I telling you this? Because I want you to know that the United Nations is not oblivious to the concerns expressed. We are not naïve about the problems facing Iraq. On the contrary. In my briefings to, for instance, the Security Council in New York, I have been very consistent about the many challenges and problems, about the need for a sense of urgency to get things done.
Therefore, I can only repeat what you've heard me say before: the United Nations will, as ever, be a partner to all Iraqis.
Ladies and gentlemen,
For good reasons, our electoral assistance to Iraq focuses on what is essential for the 10 October elections: their credibility. It is essential that these elections are different from the elections in 2018.
Now, five weeks ago, I stated that technical preparations were progressing according to plan. And yes, at the time, some concerns still had to be addressed to safeguard the accuracy of the election results.
Yesterday, IHEC conducted a 4th simulation. And I am pleased to say that, on the basis of yesterday's results, I can affirm that the 10 October elections have the potential to be different from 2018.
My colleague Ingibjorg, the UN Deputy Special Representative overseeing political and electoral matters, will brief you momentarily to expand on aspects of both yesterday's simulation as well as our electoral assistance.
Ladies and gentlemen,
As we all know, and in countries across the globe, elections and their outcomes can provoke very strong feelings. And Iraq is no different.
In most cases, such strong feelings will spark an intense but positive debate or conversation about, for instance, the importance of voting or on which direction the country should go.
And there is nothing wrong with these kinds of debates or conversations. They are the bedrock of any democracy. It demonstrates political engagement.
In some cases, however, these strong feelings are accompanied with intimidation or even worse. Needless to say: people must feel free, at all times, to exercise their democratic and electoral rights.
Also, it must be clear, that elections do not necessarily lead to one's preferred outcome. Any citizen of any country often must recognize that a process was sound even if its result was not what she or he hoped for.
Now, let me underline, one of the clearest signs of a strengthening democracy is the ability for parties and electors to recognize outcomes on the basis of the legitimacy of the process, no matter their individual preferences when it comes to results.
In closing, ladies and gentlemen, I would like to emphasize that that no election will lead to immediate miracles. That simply does not happen. Not here, not anywhere else in the world.
I wish there were overnight solutions. It would make all our lives a lot easier.
But the harsh reality is that democracy is always a work in progress. It can be messy. It can be tedious. But if people feel included, if they feel they can (slowly but surely) help shape their own futures, then the compromises and investments are more than worth it.
Also, elections alone will not bring prosperity and stability to Iraq. Elections are a means to an end. In other words: what comes next is perhaps even more important: the formation of a government, one that is able (swiftly and effectively) to get serious reforms going. Tangible results must be achieved for all Iraqis; and they must be achieved with transparency, good governance and integrity.
But to get there, the first step is: credible elections. As I stated many times: the October elections are an essential first step on (most likely) a very long road. A road that hopefully leads to a more prosperous, manageable and more just Iraq.
And I sincerely hope that all Iraqis realize the great importance and value of their vote.
This is your country. Your future. Your vote.
I will now give the floor to my colleague Ingibjorg.
UN entities involved in this initiative
UNAMI
UN Assistance Mission for Iraq