Press Release
UNAMI Human Rights Office launches Study Tour for NGOs in Iraq and the Kurdistan Region of Iraq
27 November 2017
Geneva, Switzerland, 27 November 2017 – The United Nations Assistance Mission for Iraq (UNAMI) Human Rights Office (HRO) launched a Study Tour for NGOs in Iraq and the Kurdistan Region of Iraq (KR-I). The study tour focuses on the Economic and Social Council (ECOSOC) of the United Nations, including how NGOs can obtain consultative status. Representatives of 17 NGOs and related institutions in Iraq and the KR-I (12 men and 5 women) are benefiting from the study tour.
The first part of the study tour (21-23 November) took place in Amman, Jordan. UNAMI HRO delivered three days of training sessions in cooperation with the National Center of Human Rights in Jordan and the Geneva Institute for Human Rights. These training sessions aimed to refresh the knowledge of the participants about international mechanisms for the protection of human rights, the role of NGOs in promoting human rights, and the importance of obtaining ECOSOC consultative status.
The second part of the study tour started on 27 November in Geneva. The Geneva portion of the study trip will examine coordination and consultation between the UN human rights system and civil society in the Middle East as well as the rules for working with ECOSOC. Over four days, experts from the United Nations Office of the High Commissioner for Human Rights and the Geneva Institute for Human Rights will conduct presentations. The participants will also attend discussions of Australia's National Report to the Committee on the Elimination of Racial Discrimination. Observing these discussions will help participants to understand how Iraqi NGOs and civil society can contribute to Iraq's human rights reporting obligations to the UN.
Participant Mr. Ibrahim Ismaeil, Head of the Al Messala Organization NGO, stated that "NGOs in Iraq have worked locally on human rights, but without being able to transfer their efforts, observations and activities to the international level, especially regarding the human rights treaty mechanisms. With this study trip, UNAMI has given us our first opportunity to get familiar with United Nations mechanisms for the protection of human rights."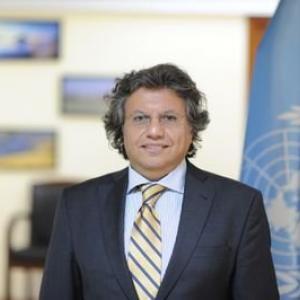 Samir Ghattas
UNAMI
Director of Public Information/Spokesperson United Nations Assistance Mission for Iraq
UN entities involved in this initiative
UNAMI
UN Assistance Mission for Iraq