Press Release
UNDP and Government of Iraq hold strategic planning workshop on reintegration in Iraq
05 February 2023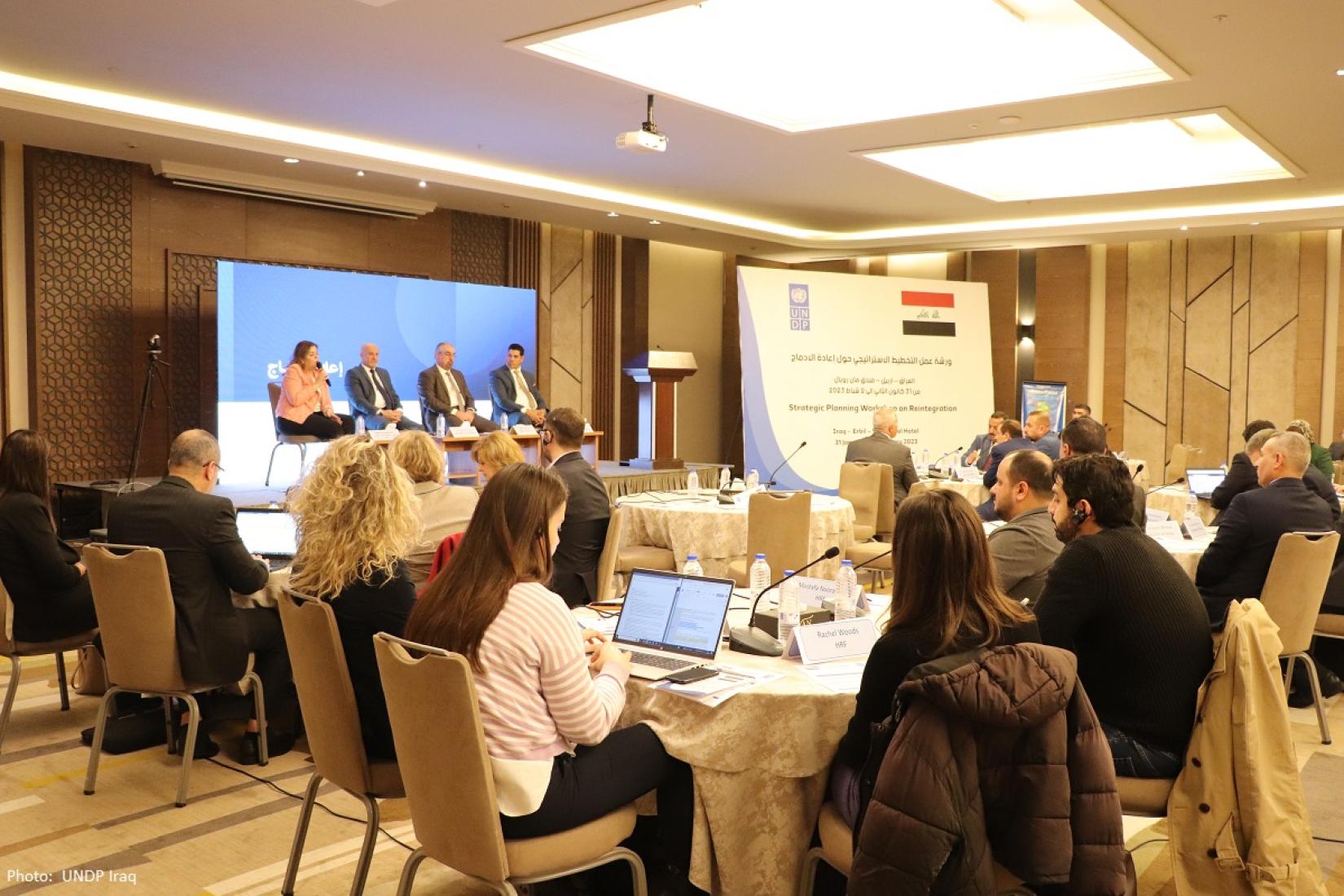 Baghdad, Iraq, 05 February 2023 – Led by the Government of Iraq, the United Nations Development Programme Iraq (UNDP), and the Global Community Engagement and Resilience Fund, a three-day workshop has brought together experts and practitioners on reintegration in addition to representatives from government, academia, civil society, and UN agencies to discuss reintegration policy components and approaches considering international frameworks and best practices.
The three-day workshop enabled sharing of international best practices and challenges within Iraq, including experiences with reintegration support in the current context, focusing on categories of caseloads requiring a specific approach for reintegration in Iraq, including Iraqi families returning from Al-hol Camp in Syria.
UNDP Iraq Resident Representative, Auke Lootsma, states, "Reintegration is a priority in Iraq, and plays a vital role in strengthening the social fabric of communities. Bringing the key players focused on reintegration into one forum is central to ensuring the advancement of sustainable and effective community reintegration, backed by a national vision to ensure no one is left behind in Iraq."
Mr. Zidan Khalaf Obaid, Advisor to the Prime Minister of Iraq on Human Rights, highlighted the importance of developing a national plan on reintegration and coexistence, which will strengthen coordination among different partners and ensure efficient implementation of programmes on the ground. He emphasizes, "It is vital that we focus on community acceptance for reintegration, as many families remain stigmatized outside of their communities."
Dr. Mohammed Tahir Al Tamimi, Director General on Governmental Follow-up and Coordination, Office of the National Security Advisor, states, "This was an important opportunity to bring together reintegration actors and confirm commitment to the return process, psychological rehabilitation, and sustainable reintegration, as well as to discuss priorities for coordination between partners."
Mr. Ali Abbas Jahankir, Director General of the Branches Department, Ministry of Migration and Displaced, says, "We have discussed solutions and mechanisms toward their implementation, and the importance of involving government and society in solving problems in areas of return, including assistance with psychological and social rehabilitation."
UNDP's approach to stability in Iraq includes support to stabilization in liberated areas through rehabilitation of infrastructure and serves, livelihoods creation, strengthening local government capacities, and social cohesion. UNDP supports community readiness for the reintegration for thousands of Internally Displaced Iraqi families, including persons perceived as affiliated with ISIL, who are often women and children.
UNDP Iraq's five-year Social Cohesion Programme launched in January 2020 to promote stronger, peaceful, and more cohesive communities in all areas of Iraq.
UN entities involved in this initiative
UNDP
United Nations Development Programme