Press Release
Hamadan: the latest in UNITAD and Iraqi Authorities Joint Excavation and Investigation of ISIL Victims' Mass Graves in Sinjar
28 March 2023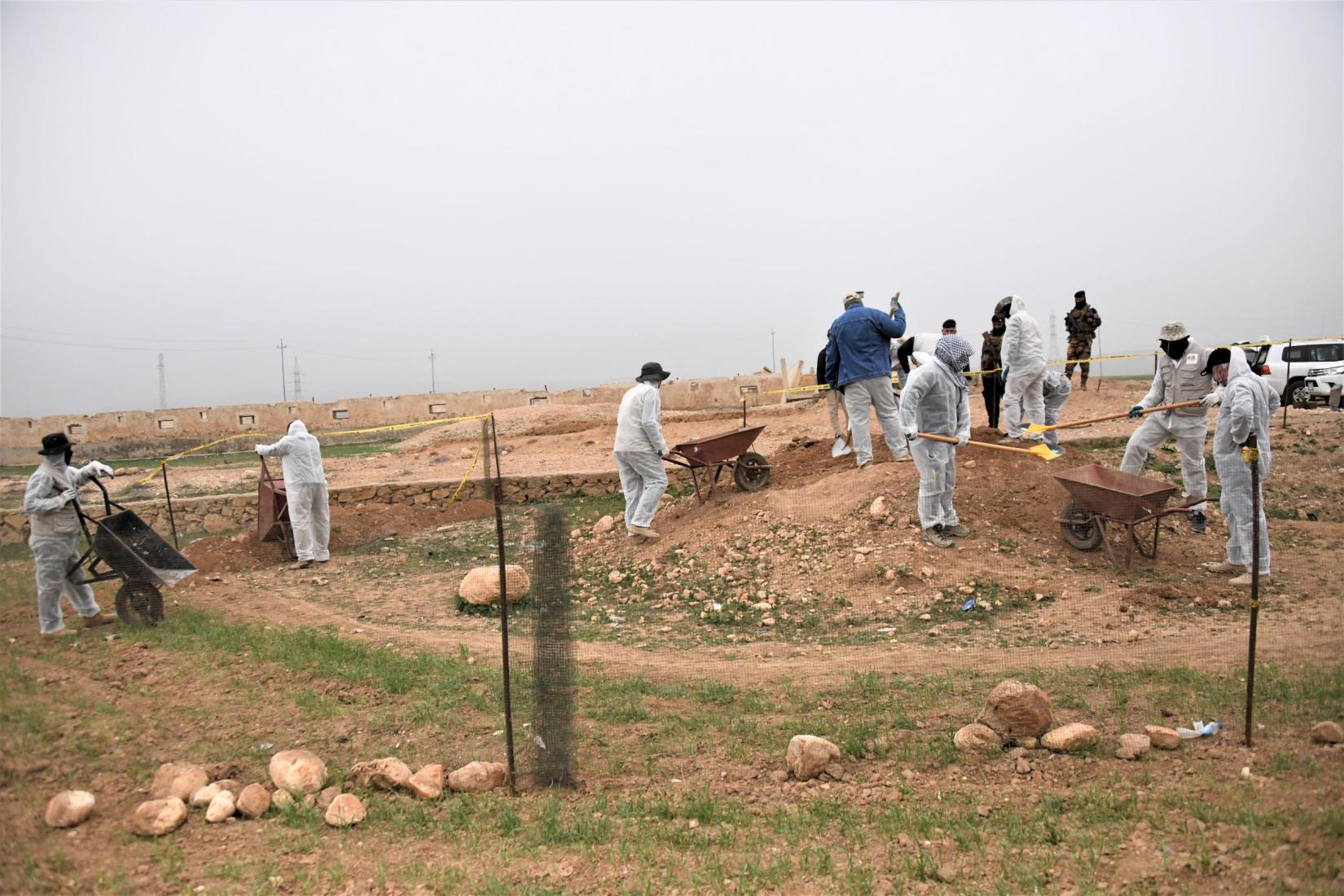 28 March 2023 Baghdad: The Iraqi authorities, supported by the United Nations Investigative Team to Promote Accountability for Crimes Committed by Da'esh/ISIL (UNITAD) concluded the excavation of multiple mass grave sites in the vicinity of Hamadan, near Sinjar town.
The excavations were led by the Mass Graves Directorate (MGD) in cooperation with the Medico-Legal Directorate (MLD) in line with the national strategy for excavation of mass graves and the Iraqi Law on the Protection of Mass Graves. UNITAD provided support to the excavations including financial, technical, and expert support as well as necessary equipment.
In August 2014, ISIL committed atrocious crimes against the Yazidi community in Iraq, which UNITAD had deemed as amounting to Genocide. The excavation of Hamadan mass graves offers additional evidence that contributes to prove such crimes against the Yazidis. These excavations and investigations of multiple mass graves are critical components in advancing efforts for holding ISIL perpetrators accountable for atrocities committed against the Yazidi community in Sinjar. Moreover, the recovered remains were transported to MLD facilities in Baghdad to be identified, allowing for their return to the next of kin to provide their loved ones with dignified burials in accordance with religious or cultural practices.
Special Adviser and Head of the Investigative Team Christian Ritscher stated that "UNITAD will continue to support Iraqi efforts to excavate mass graves of ISIL victims. The Yazidi community in Hamdan, as other communities impacted by ISIL crimes in Iraq, deserve to see justice served for the international crimes committed against them and their loved ones. It is through our joint endeavors with the Iraqi Government and competent national experts that we are able to move forward towards pursuing accountability and achieving justice."
Mr. Dia' Karim Tehmeh, Director General of MGD pointed that: "usually, MGD and in consultation with all partners, draws an annual plan for the excavations. These activities are the first step in this plan that ensures the opening and excavation of several sites in different governorates."
The identification of the recovered remains will be carried out in accordance with international standards, and using advanced technology, including the Laboratory Information Management System (LIMS) which was provided by UNITAD to support MLD in its efforts to establish robust scientific identifications of the remains of victims recovered from ISIL mass graves across Iraq. So far, UNITAD has supported the excavation of over 40 mass graves of ISIL victims.
UN entities involved in this initiative
UNITAD
United Nations Investigative Team to Promote Accountability for Crimes Committed by Da'esh/Islamic State in Iraq and the Levant