Story
Speech of DSRSG/RC/HC to the "Strengthening Public-Private Dialogue on Anti-Corruption and Integrity Issues" Conference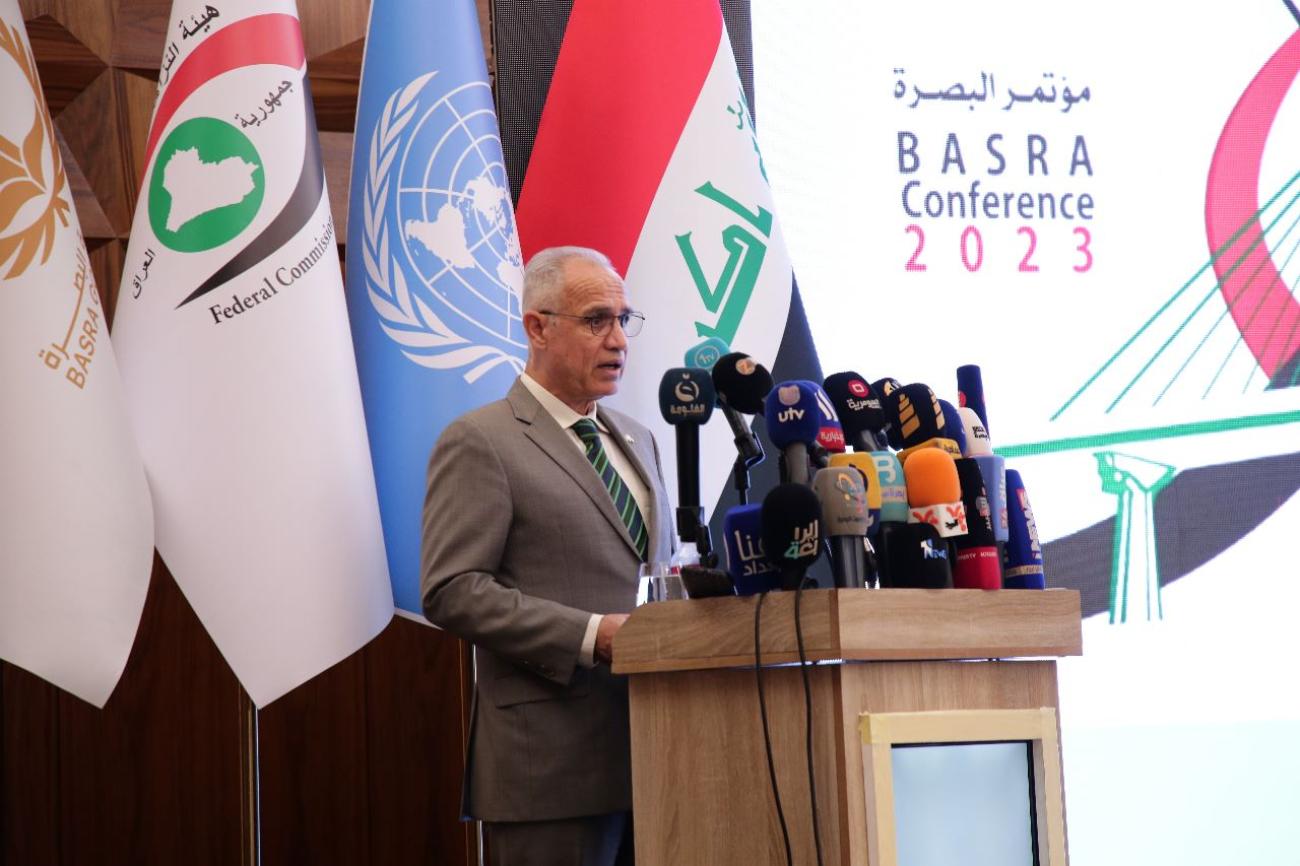 Basra, Iraq
Good morning, excellencies, and distinguished guests,
It is an honor to speak at this momentous occasion, the "Strengthening Public-Private Dialogue on Anti-Corruption and Integrity Issues" Conference, hosted here in Basra.
I extend my heartfelt appreciation to Judge Haider Hanoun, Head of the Federal Commission of Integrity of Iraq, for the kind invitation, and I congratulate the esteemed Federal Commission for organizing this significant event.
I would also like to express my gratitude to Governor Mr. Asaad Al Eidani, for graciously hosting this conference. The choice of venue in Basra reflects the deep connection between the public and private sectors. It showcases Basra's commendable efforts in creating an attractive business environment for foreign investments and fostering private sector development aligns well with our objectives.  
Dear participants.
Corruption is a complex, multi-dimensional, and cross-sectoral phenomenon that hampers economic, political, and social development in all nations. Its consequences are far-reaching, affecting both governments and businesses. Small and medium-sized enterprises (SMEs) often find themselves in a particularly vulnerable position due to their limited capacity to tackle corruption effectively. Consequently, addressing corruption necessitates a holistic and systemic approach, involving the active participation of all stakeholders.
To overcome this global challenge and achieve national reconciliation, security, and good governance, it is imperative to establish effective and regular communication and coordination between the public and private sectors. Such collaboration serves as a foundation for trust-building in government institutions. When private sector stakeholders witness their effective representation and see their contributions valued, their confidence is bolstered. This results in tangible benefits not only for the private sector but also for the broader community.
Considerable progress has been made in the global fight against corruption, but much work remains to be done. Engaging the private sector in understanding the multifaceted nature of corruption, strengthening legal and institutional frameworks, and fostering a culture of change have been significant steps forward. These essential elements are enshrined in the United Nations Convention against Corruption (UNCAC).
Through active engagement with civil society and the private sector, governments can build robust governance systems, thereby enhancing the integrity of the business sector. This is crucial to ensure an attractive and competitive business environment, which, in the long run, leads to healthier markets and increased investor confidence. By encouraging companies to adopt stronger anti-corruption practices and robust corporate governance systems, as well as advocating for equitable and transparent competition through well-designed laws and regulations, governments foster innovation, efficiency, and value for consumers.
Therefore, in line with Iraq's commitments, the United Nations is fully committed to enhancing cooperation with the partners and stakeholders present here today. Together, we can turn the goals of anti-corruption and integrity into a sustainable reality. This collaboration aims to create an environment that attracts foreign investments and promotes private sector development.
In our quest to combat corruption, it is crucial to recognize the strong link between this fight and the Sustainable Development Goals (SDGs) set forth by the United Nations. The SDGs provide us with a comprehensive framework to promote inclusive and sustainable development, leaving no one behind. Goal 16 specifically calls for the promotion of peace, justice, and strong institutions, emphasizing the need to combat corruption and ensure transparent and accountable governance.
With the participation of nearly 150 key stakeholders from the private sector, associations, syndicates, national authorities, civil society organizations, and international organizations, we have the opportunity to strengthen the public-private dialogue, share knowledge and best practices, and forge partnerships that will drive real change. Together, we can make significant strides towards a future where integrity prevails, corruption is eradicated, and the SDGs become a reality for all.
In conclusion, it is our collective responsibility to uphold integrity and combat corruption. We must cultivate a shared belief that the fight against corruption is a joint obligation between the public and private sectors. By engaging multiple stakeholders, we can drive this agenda forward. This endeavor not only holds tremendous significance but also has the potential to stimulate economic growth in the future.
Let us join forces, with unwavering dedication, to build a culture of transparency, accountability, and integrity in Iraq.
Thank you.
UN entities involved in this initiative
RCO
United Nations Resident Coordinator Office
UNAMI
UN Assistance Mission for Iraq