Story
Remarks by the SRSG for Iraq and Head of the United Nations Assistance Mission for Iraq (UNAMI), Ms. Jeanine Hennis-Plasschaert, at the 9th Annual Commemoration of the Yazidi Genocide – Towards a Sustainable Future for the Yazidis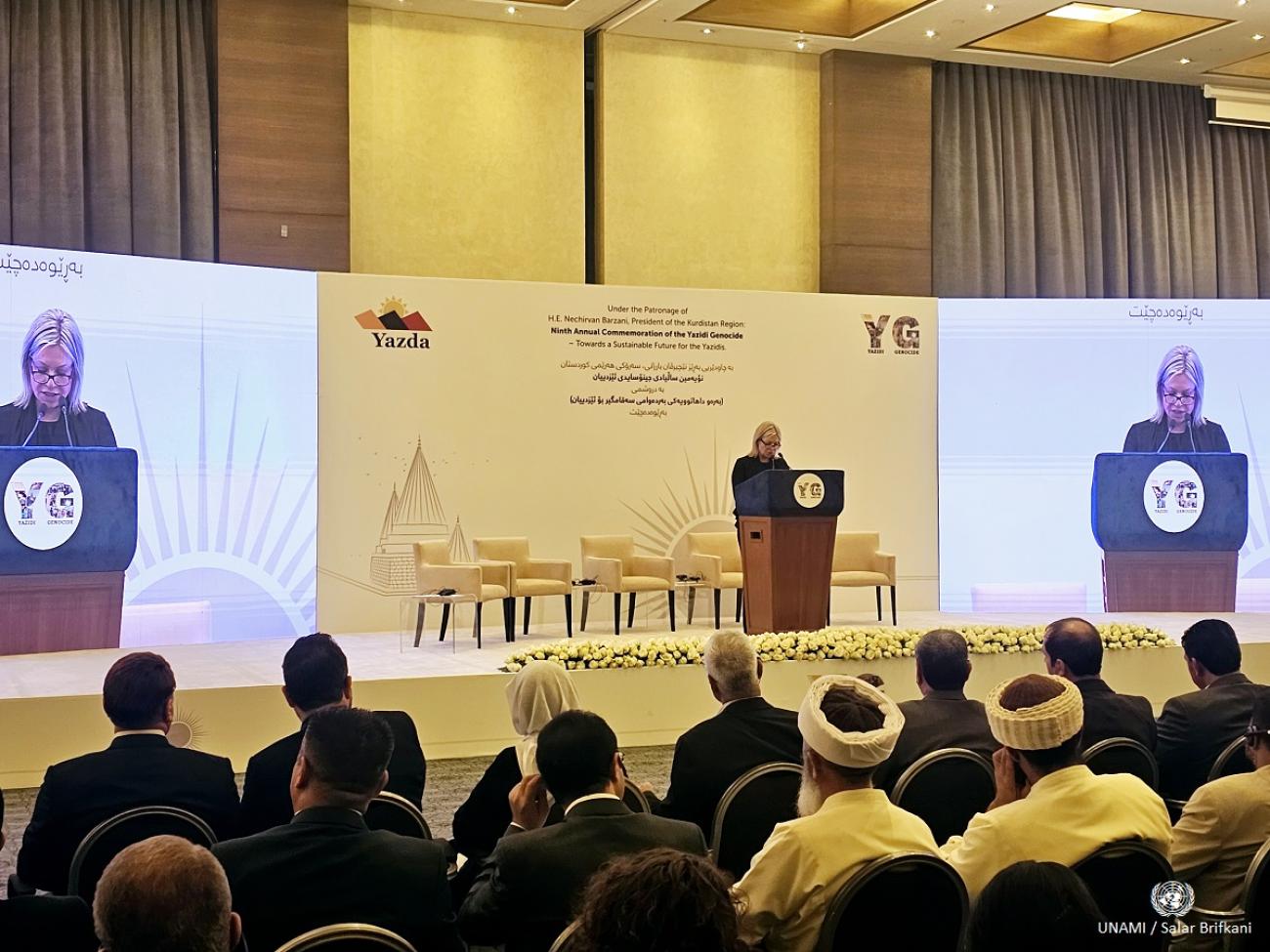 Excellencies,
Ladies and gentlemen,
Of course, we are here, on this solemn occasion, to remember what happened to the Yazidi community at the hands of the so-called Islamic State.
And, there are no phrases or platitudes capable of doing justice to the suffering endured. And, each year, we meet to ensure we never forget the horror that unfolded in 2014.
Now, as I said this morning in Baghdad: undying memory is a collective duty. But this memory must not be static. The most powerful form of remembrance is the one that compels action.
Unfortunately, over the past nine years, a sense of urgency to act has been lacking. Throughout the years the people of Sinjar have faced tremendous challenges and obstacles; obstacles due to discord on stable security structures and a unified administration.
And, in memory of all victims, and out of respect for their loved ones, I can only repeat what I have asked so many times from relevant actors: please, set aside your differences or partisan interests. And please, with immediate effect, place the needs of the Sinjari people first.
Now, true, there are some positive developments to report:
Over 600 survivors have started to receive their monthly compensation under the Yazidi Survivors Law;
The land and property decree, of course;
The approval of the federal budget has unlocked resources;
And, the Provincial Council elections at the end of this year will hopefully contribute to much-needed stability in the governance of Sinjar.
However, in saying all of this, let me be clear: sugar-coating the situation will not help anyone – least of all survivors.
Plainly speaking, the truth is that, while very recently things started to move in the right direction, they are simply not moving fast enough.
As discussed today, many people  are still missing – their families left in the dark, cruelly denied the chance to lay loved ones who have lost their lives to rest.
Too many are still displaced, and they - as well as people who have returned to their homes - face a plethora of challenges. These include health and mental health issues, with those in need often unable to get support – whether due to a lack of services or paperwork.
Women survivors in particular face a confluence of hurdles.
Meanwhile, poverty is widespread, with many people left without employment or a social net to fall back on.
Now, these challenges are not helped by ongoing stalls in the implementation of the Sinjar Agreement.
So, to cut a very long story short, nine years after the peak of Da'esh violence, and three years after Erbil and Bagdad signed up to the Sinjar Agreement: the prospect of "stability and security" is still too hazy – too far off in the distance – for too many Sinjari people.
Ladies and gentlemen,
Recent developments and declarations of commitments will hopefully create momentum. And, yes, these developments need to be harnessed and scaled up.
As I did in Baghdad, this morning, let me highlight some priorities in that regard:
First, I will refer to the implementation of the Yazidi Survivors Law. Quite simply, it must be accelerated. And this can only happen if the Directorate for Survivors Affairs has capacity for the caseload ahead. Equally important are efforts to dismantle barriers that prevent survivors from demonstrating their eligibility.
Secondly, I already referred to it: the Sinjar Agreement. As positive as recent repeated declarations of commitment have been, we must see concrete steps – and at a faster pace. Be it the appointment of a mayor, the establishment of a local security force, the delivery of services or the scale up of reconstruction. And, to be clear, the outlook of the December elections should not hinder the process of appointing a temporary mayor for Sinjar. Such appointment, any time soon, is critical if we talk about stepping up public services and reconstruction activities.
Thirdly, and this is a message I have heard from all survivors I have met in past years: justice and accountability remain key.  While collective stigmatization should be avoided, at all times, it goes without saying: yes, indeed, the individuals responsible must be brought to justice. And the UN, including through the work of UNITAD, continues to support Iraqi-led efforts to enact relevant legislation and pursue justice.
Now, finally, allow me to reiterate that people must be placed before politics or partisan interests, particularly when talking about those who have suffered some of the worst atrocities in recent human history. Only in this way can the needs of survivors be fully met.
Ladies and gentlemen,
Within this context, I cannot overstate the responsibility of leadership. Regardless of background or affiliation, everyone in this room or beyond is expected to understand the magnitude of the responsibility resting on their shoulders. It is now time – and I would say, high time – to contribute to constructive dynamics on the ground, for everyone. And, within the context of Iraq's state structure. And by identifying what Sinjaris have in common rather than emphasizing their differences.
Today's ceremony is a stark reminder of the monstrous inhumanity that can emerge from conflict, of just how critical the need to avoid its reoccurrence is. And as I said in different words before: the truest form of remembrance is the one that inspires us to act.
In other words: while we honour the past, we must also look to the future – and thus take action with resolve so as to prevent further suffering among the people from Sinjar. They deserve a future they can believe in. Starting today.
Thank you very much.
UN entities involved in this initiative
UNAMI
UN Assistance Mission for Iraq