Speech
Opening Remarks by UN Special Representative Jeanine Hennis-Plasschaert at press conference on Iraq elections | Baghdad, 7 September 2021
Ladies and Gentlemen,
Thank you for attending this press conference. It's good to see all of you.
The floor will be yours for any questions you might have in the context of the upcoming elections. But I would like to start with some opening remarks.
Not surprisingly, today's press gathering will focus on Iraq's all-important elections, which will be held on October 10th. The clock is ticking, with less than five weeks left until Iraq goes to the polls.
As most of you know, I recently traveled to New York to brief the UN Security Council on the situation in Iraq, devoting nearly my entire statement to the Security Council on the elections. One thing was very clear to me: the world is watching closely. Like the Iraqi people, nobody wishes to see a repetition of the events in 2018. In other words, the importance of credible Iraqi elections is widely recognized.
As you know, in October 2019, many Iraqis took to the streets. They were protesting a lack of economic, social and political prospects. And one of their central demands was the holding of early elections. Two years later, that demand is being met. Elections will be held. And there is no denying it: these elections were hard earned.
As I said in New York: the United Nations will, as ever, be a partner to Iraq and the Iraqi people.
While these elections are Iraqi-owned and Iraqi-led, we have been providing – and will continue to provide – advice and technical assistance.
Our technical advisers are supporting IHEC (the Independent High Electoral Commission) in a range of areas. From ballot paper printing to advice on COVID-19. From recruitment and training of polling staff to security planning. From developing electoral regulations and procedures to strengthening processes and systems. The UN also assists IHEC in conducting simulation exercises. And I could go on and on. But to cut a long story short: in support of the relevant Iraqi authorities, the overall objective of our efforts is the conduct of credible elections.
I often get asked whether the October elections will be different from the elections in 2018, and in response, I point to the facts – such as:
    A new electoral system has been put in place. Voters will now vote for individuals, not just for political parties.
    Before, there were 18 constituencies. Now, there are 83.
    Experience elsewhere in the world shows us that voting for individuals and smaller constituencies can create a stronger bond between voters and their representatives.
    To boost transparency and increase trust, an independent audit firm will be keeping tabs on how the votes are counted and what happens with the results.
    For the first time, and to emphasize IHEC's independence, judges are serving as election commissioners.
    This time, to help prevent fraud, provisional results will be shown in real time at Result Display Centers throughout the country.
    The UN is deploying a much bigger team to support the elections. In fact, this is one of the UN's largest electoral technical assistance projects worldwide, with five times as many UN personnel as in 2018.
    In addition to that, 130 additional international experts are in the process of being deployed to monitor in advance of – and on – Election Day. They come with around 600 additional supporting staff.
    Meanwhile, new measures are in place to mitigate the misuse of electronic voter cards, or in other words: the non-biometric voter cards. For example, after voting, the cards will be confiscated and disabled for 72 hours. Old non-biometric voter cards, which voters turned in when they received their new biometric voting cards, these old cards have been collected by IHEC and will be destroyed at any moment – most likely today or tomorrow.
So, ladies and gentlemen while I am reflecting on ongoing efforts and measures in place, I can confirm that the UN does believe that the October elections have the potential to be different from the elections in 2018.
But I also have to stress that, no matter how many technical measures are being put in place, it is up to the political forces and candidates to collectively refrain from any attempt to force or distort election results. It is up to them to stop the buying of loyalties, voter suppression and/or any other intentional, illegal action. It is up to them to collectively lead by example.
Now, what does that mean, it means that there is no place for any impropriety and that includes pressuring individuals to vote for specific candidates, for instance by threatening to withhold salaries and using official positions in an illegitimate manner. It also includes the buying and selling of votes – as well as for instance, the intimidation of candidates and voters by threatening to release all kinds of information about them. This is all unacceptable. And to those candidates who think they can offer – let's say – 200 dollars per vote, and in return receive a photo proving that the voter has indeed voted for that candidate, to those candidates I would like to say: you are wasting your money. Mobile phones and cameras this time will not be allowed inside voting booths.
Now, needless to say: any and all illegal actions threaten the credibility of the October elections. Hence, the United Nations support all efforts to prevent, report and punish such actions.
Let me repeat: in the interest of Iraq's young democracy, it is crucial to deliver an electoral process that will be recognized as credible.
Also key to establishing public trust is inclusivity. In that regard, we'll continue to encourage the full and meaningful participation by women – both as candidates and voters.
For example, we are working with civil society organizations to monitor and report political gender-based violence and hate speech against female candidates.  We also provided small grants to local NGOs to undertake civic and voter education activities targeting female voters as a key demographic group.
Other groups that need to be brought into the fold include: youth; first-time voters; socially excluded and vulnerable groups; internally displaced persons (IDPs) and returnees; minorities; and persons with disabilities. Now as an example, to make this happen, the United Nations recruited, for instance, a sign language interpreter to assist IHEC and we also support IHEC on the production of graphics and videos aimed at women, persons with disabilities and IDPs.
And yes, I cannot over-emphasize the important role of young people in the upcoming elections. With sixty percent of Iraq's population being 25 years old or younger, these elections offer a new generation of Iraqis the chance to make its voice heard.
Through my discussions with Iraqis across the spectrum, I (of course) have heard the calls for a boycott of the elections. And the reasons for such calls vary. From disillusionment, mistrust, anger and loss of hope… to being "not ready" and apparent political positioning.
But as I emphasized before: while the feelings of disillusionment are well understood, boycotting the elections will not solve anything. On the contrary. If you do not vote, you end up boosting those whose positions you may oppose.
Now, we also know that Iraq needs deep, structural reforms. But such reforms require unwavering determination, immense patience and lots of time.
Meanwhile, democracy is always a work in progress. And it can be tedious. It is not easy to balance interests and opinions. But if people feel included – if they feel they can help shape their own futures – then the compromises and investments are more than worth it.
Dear members of the press,
I also have a message for you. And that is about misinformation. We continue to see that falsehoods are gaining traction and becoming accepted as truth. There are misperceptions about IHEC. About protesters. About government officials. About political rivals. And yes, also at times about the UN.
But it must be clear to all of us: fake news, conspiracies and misinformation only sow distrust. They can turn people against each other. And they can derail credible elections. So, we are counting on you as well.
We are counting on you to make sure that reporting is accurate. In other words: your role in ensuring a credible process is also essential. Stick to the facts. Deliberately feeding into all kind of misinformation or randomly spreading stories is truly risky business.
Last but not least, and before taking your questions, allow me to reiterate the following to the Iraqi people: The UN is with you. Your goal is our goal. To see Iraq emerge from uncertainty and division, as a country in which all of its citizens have the chance to be heard and to succeed.
The very first step, on the very long road to achieving that, is to cast your ballot.
This is your country. Your future. Your vote.
Thank you very much.
Speech by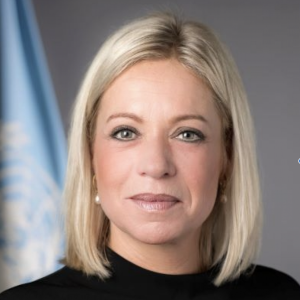 Jeanine Hennis-Plasschaert
UNAMI
Special Representative of the UN Secretary-General for Iraq
UN entities involved in this initiative
UNAMI
UN Assistance Mission for Iraq