Story
Iraq's political parties and independent candidates sign Electoral Code of Conduct as campaigns intensify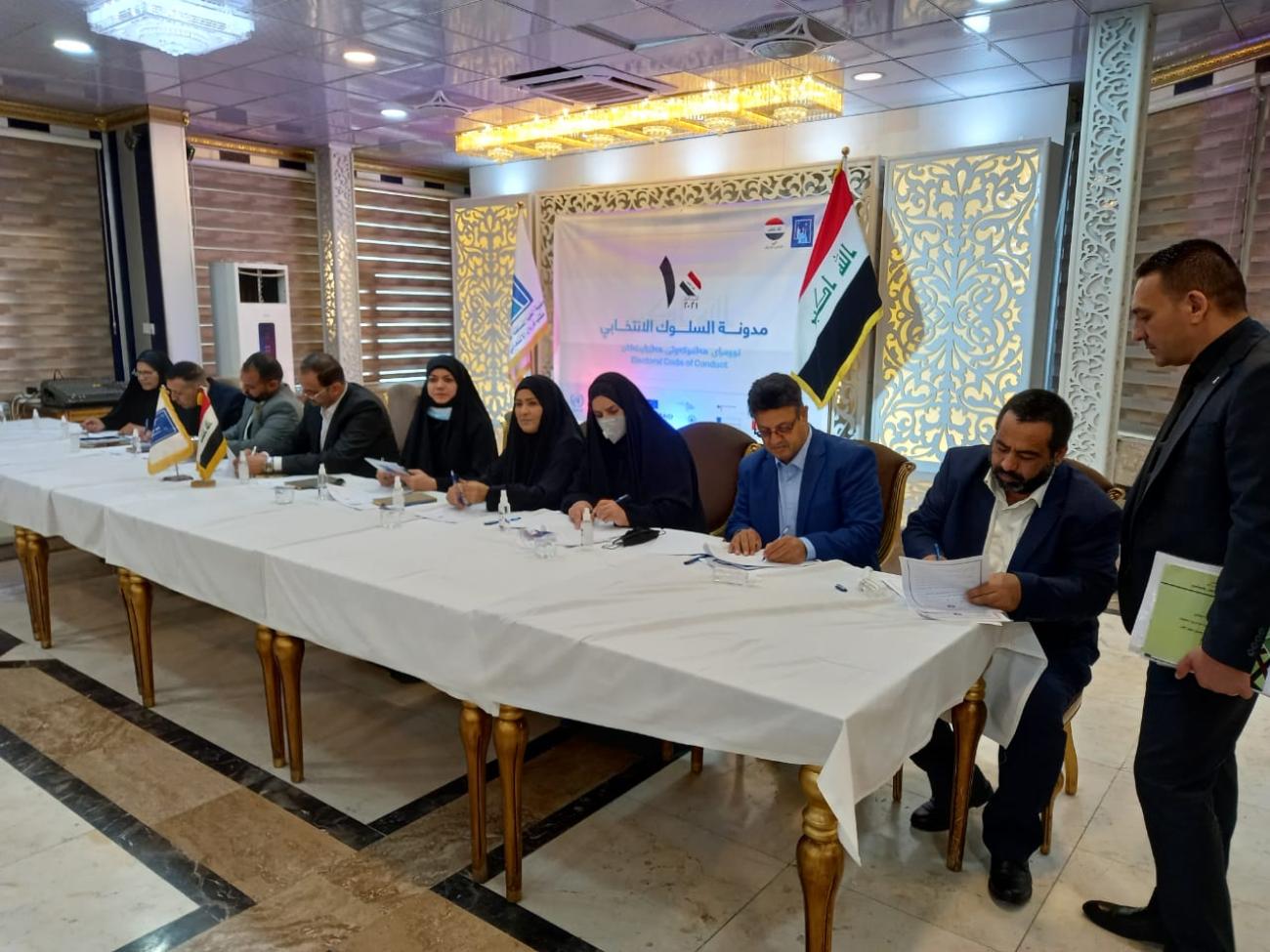 The Electoral Code of Conduct notes that strict punitive measures will be taken against violating parties.
20 September 2021 – Political parties and independent candidates participating in the 10 October elections today signed the Electoral Code of Conduct in all of Iraq's 18 governorates and the capital Baghdad. The signings, which took place in the presence of officials from the Independent High Electoral Commission (IHEC), personnel from the United Nations Assistance Mission for Iraq (UNAMI) and other independent observers, are part of efforts by IHEC and the United Nations to minimize intolerance, violence, and hate speech, during both campaigning and voting periods. All concerned actors and parties are expected to abide by the Electoral Code of Conduct, a moral political agreement on the rules to be followed by political parties and their supporters during the electoral process. The goal is to maintain the legality, integrity and appropriate implementation of the process.
The Electoral Code of Conduct is intended to, among other things, help increase confidence in the electoral process, prevent conflicts and enhance popular support for the Iraqi elections. Party signatories to the Electoral Code of Conduct are expected to respect the right and freedom of all other parties to campaign and spread their political ideologies and principles without intimidation or fear from any other party.
The Electoral Code of Conduct also requires all signatories to respect the freedom of journalists and the media and to support Iraqi women and minorities participating and standing as candidates in the elections. Signatory parties are expected to help create a safe electoral environment during the campaigning, poling, vote counting and post-election phases. All campaign activities must end 24 hours prior to the opening of the polls.
The Electoral Code of Conduct notes that strict punitive measures will be taken against violating parties, alliances or candidates, in accordance with the applicable laws, regulations and instructions.
For the 10 October elections, IHEC's Board of Commissioners approved 3,249 candidates, including 951 women, to contest 329 seats in the Iraqi Council of Representatives – 320 of which are distributed among the governorates within 83 constituencies. Those constituencies have been defined under the new electoral system. The remaining 9 seats are reserved for minorities. IHEC registered over 25 million Iraqis, 48.6% of them women, to vote in the 10 October elections.
The United Nations will continue to advise and assist IHEC on the planning and holding of free and fair Iraqi-led and Iraqi-owned elections. Compared to years past, the UN is deploying a much bigger team to support the elections. This is one of the UN's largest electoral technical assistance projects worldwide, with five times as many UN personnel as in the 2018 Iraqi elections. Meanwhile, 130 additional international experts are in the process of being deployed to Iraq to monitor in advance of – and on – Election Day. They come with around 600 supporting staff.
By Solomon Moriba, Communication Advisor, Office of Electoral Assistance, United Nations Assistance Mission for Iraq (UNAMI)
UN entities involved in this initiative
UNAMI
UN Assistance Mission for Iraq