Press Release
Amid water shortages in Iraq, FAO, IFAD and WFP call for action on World Food Day to help communities confront climate change
16 October 2021
16 October 2021, Baghdad – Today on World Food Day, the Food and Agriculture Organisation (FAO) of the United Nations, the International Fund for Agricultural Development (IFAD) and the United Nations World Food Programme (WFP) renew their commitment to help reform food systems in Iraq, calling for action to tackle water shortages and climate change.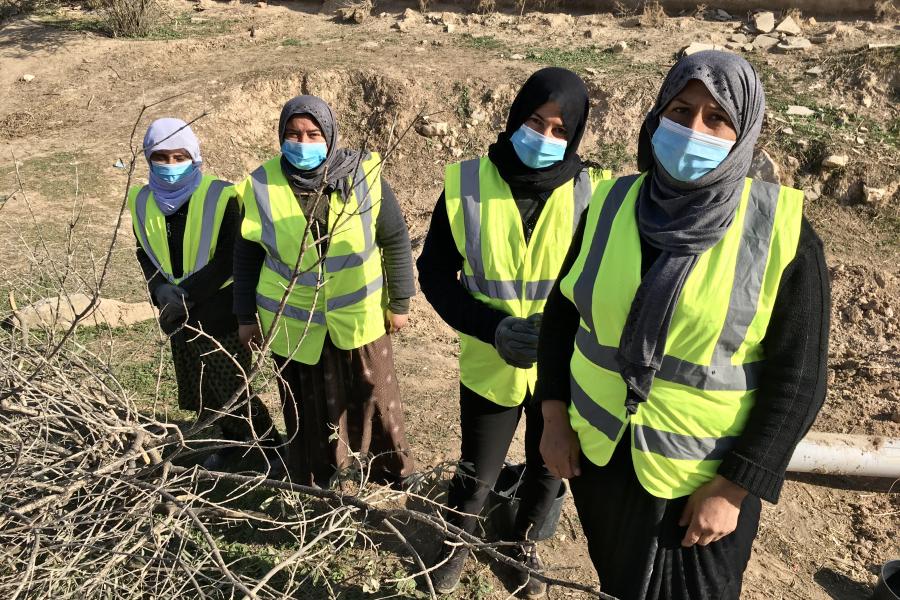 Building on this year's theme for World Food Day, "Our actions are our future- Better production, better nutrition, a better environment and a better life," the UN partners and World Bank's latest research highlights the impact of lower rainfall on people's food security.
"The impact of water shortages in Iraq is becoming evident through the lower crop yields for 2021. Urgent action is required to confront climate change, working together to address the root causes," said FAO Representative in Iraq Dr Salah El Hajj Hassan, WFP Iraq Representative Ally-Raza Qureshi, and IFAD Lead Economist Alessandra Garbero in a joint statement. "Reforming food systems will also help the most vulnerable communities in Iraq withstand future shocks. Resilient, modern food systems are important for long term food security and the sustainable economic growth of Iraq."
Water shortages have resulted in below-normal development of vegetation and are affecting crop yields. According to estimates from FAO, by the end of the season, wheat production will be 70% lower and barley production negligible. The lower levels of rainfall this season are having a knock-on effect on smallholder farmers who have already been dealing with challenges in accessing markets due to higher prices.
In Ninewa and Salah al-Din governorates, which are worst-affected by lack of rainfall, WFP's analysis identifies that insufficient food consumption and use of negative coping strategies such as borrowing money or eating less food among households, are almost double the national average.
Vulnerable communities, a vast majority of whom rely on agriculture, fishing, and livestock, who contribute the least to the climate crisis bear the brunt of the impacts with limited means to cushion the blow. Urgent action is required to address the water shortages in Iraq and climate change, as focus shifts to the 26th Conference of the Parties (COP26).   
Download copies of the latest report in Arabic and English at: https://bit.ly/2YKINTT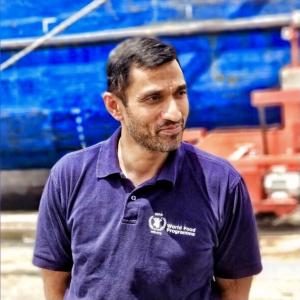 Ally-Raza Qureshi
WFP
Representative
Ally-Raza Qureshi joins the WFP Iraq team following a long career in humanitarian and emergency response, development and also the private sector. He is a national of Pakistan and began his career as a Chartered Accountant. Ally has worked with WFP for 20 years, starting with the Oversight Department as an internal auditor, subsequently Head of Area Office in El-Fasher, Darfur, Sudan; WFP Bangladesh Deputy Representative; and at HQ the Deputy Director for Resource Management and Programming, Deputy Director for WFP's corporate transformative project- the Integrated Road Map and acting Director of Corporate Planning and Performance Management. Ally was recently WFP Deputy Representative in Yemen, where he successfully led the expansion of the programme to support over 13 million Yemenis. Ally is passionate about helping communities through resilience and livelihood programmes, and social protection systems addressing their needs. He is an advocate for green energy and for combating climate change. Ally has been in Iraq for nine months as WFP Iraq Representative. Since then, he has been on supporting WFP's programmes aimed at addressing climate change challenges to Iraq, supporting youth through livelihood skills training and access to finance and supporting Government through strengthening Government social protection systems.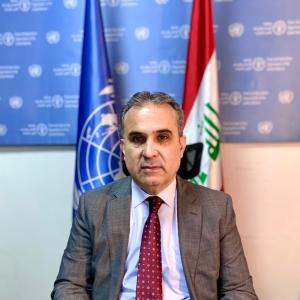 Salah Elhajjhassan
FAO
Representative
Mr Hajj Hassan, a national of Lebanon, holds a Ph.D. in Plant Production from the University of Agriculture, Damascus, Syria; a Master of Science degree in Plant Production and a Bachelor of Science degree in Agricultural Engineering, both from the American University of Beirut, Lebanon.
He started his career in 1984, as Senior Research Assistant in the Agricultural Research and Education Centre (AREC), American University of Beirut. From 1987 to 1991, he was Coordinator of the Student Training Programme, and also Agriculture and Horticultural Teacher for the Faculty of Agriculture, at the Lebanese University.
From 1991 to 1995, he worked as Agricultural Engineer at the Ministry of Agriculture, Bekaa Regional Office, Zahlah and was then assigned to the Agricultural Research Institute in the Tal Amara station, first as Head of the Crop Production Department and subsequently in charge of the Plant Protection Laboratory. From 2002 to 2006, he was Director of the Kfardane Research Station (Agricultural Research Institute). In 2008, he became Visiting Scientist at the International Maize and Wheat Improvement Centre (CIMMYT) and Coordinator of a project with the International Centre for Atomic Energy Agency, Vienna.
In 2010, he served as Advisor to the Minister for Agriculture of Lebanon. In 2011, he became President of the Pesticide Scientific Committee, Head of the Phytoplasma Committee and Director of the Agriculture and Rural Development Programme (ARDP) (EU-funded project). From 2010 to 2013, he represented Lebanon in negotiations with EU, Egypt, Jordan and Iraq. During his career, Mr Hajj Hassan also carried out a number of other functions. He represented the Lebanese Agricultural Research Institute (LARI) in several research programmes with the International Centre for Agricultural Research in the Dry Areas (ICARDA) and the American University of Beirut. He was Coordinator of the Mashreq/Maghreb project with ICARDA, representing Lebanon in the Steering Committee, as well as being the Head of the Sugar-beet Delivery and of the Wheat Delivery Committees. For a number of years, Mr Hajj Hassan worked for the preparation of FAO TCP projects and served as the National Director of a TCP project. He joined FAO in January 2014 as FAO Representative in Yemen. Mr Hajj Hassan succeeds Mr El Zubi as FAO Representative in Iraq.
UN entities involved in this initiative
FAO
Food and Agriculture Organization of the United Nations
IFAD
International Fund for Agricultural Development