Press Release
UN Lends Support as Iraqi Women Show United Front in Politics to Push for a Stronger Role
06 August 2018
Baghdad, 6 August 2018 – In a meeting facilitated by the United Nations, Iraqi women expected to sit in the next Council of Representatives discussed working collaboratively across the political spectrum, including the possible establishment of a women's parliamentary caucus, to promote gender equality and the adoption of laws advancing women's rights and to strengthen their role in governance.
The seventeen women, who ran in the 12 May general elections on different party lists and are expected to win parliamentary seats, and who include former members of parliament and provincial councils, agreed that some women MPs in the incoming parliament deserve senior roles in the new government, including the Council of Ministers. They expressed their determination to be part of parliamentary committees across the spectrum of issues, not just those traditionally associated with women, and they voiced their keenness to build their skills and knowledge on all aspects of parliamentary work.
The women pressed the UN to advocate for women's representation in the government formation as a priority - a position that the United Nations Assistance Mission for Iraq (UNAMI) has strongly supported on every occasion. The meeting was also attended by representatives of UNDP, UNFPA, UNMAS, UNOPS, and UNWOMEN.
The Iraqi women politicians undertook to work across the party divide, for example in establishing a women's parliamentary caucus and women's platforms, in the development of government policies and strategies. And they committed to collaborate with civil society and male champions on increasing women's participation and representation in politics, as well as gender mainstreaming in all parliamentary processes.
Deputy Special Representative of the Secretary-General for Iraq Alice Walpole assured participants of the UN Family's readiness to continue encouraging political leaders and heads of blocs to include women in committees negotiating government formation, as well as the inclusion of women's demands in the government programme and their representation in the Council of Ministers, Judiciary, state institutions and other high-level public positions.
"In the context of our commitment to support all elected MPs," Ms. Walpole said, "we would be happy to provide technical support and advice on the establishment of a women's parliamentary caucus. This caucus would ensure the sort of unity of effort that can help advance progress on the adoption of laws impacting positively on women, girls and children's rights."
Ms. Walpole added: "There is real value in including a gender perspective in parliamentary legislation, for example, employment laws with specific quotas to advance women's representation." Ms. Walpole also highlighted the importance of expanding collaboration with civil society and women's activists. She noted that "a strong and effective civil society is an integral part of democracy and will help underpin the achievements of all elected MPs in parliament."
UN Lends Support as Iraqi Women Show United Front in Politics to Push for a Stronger Role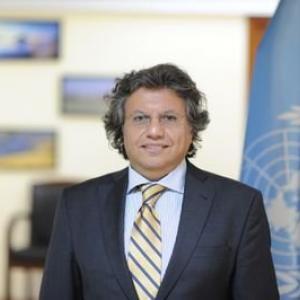 Samir Ghattas
UNAMI
Director of Public Information/Spokesperson United Nations Assistance Mission for Iraq
UN entities involved in this initiative
UNAMI
UN Assistance Mission for Iraq