Story
'Art for Peace Exhibition' in Baghdad: Expressions of Peace, Reconciliation and Hope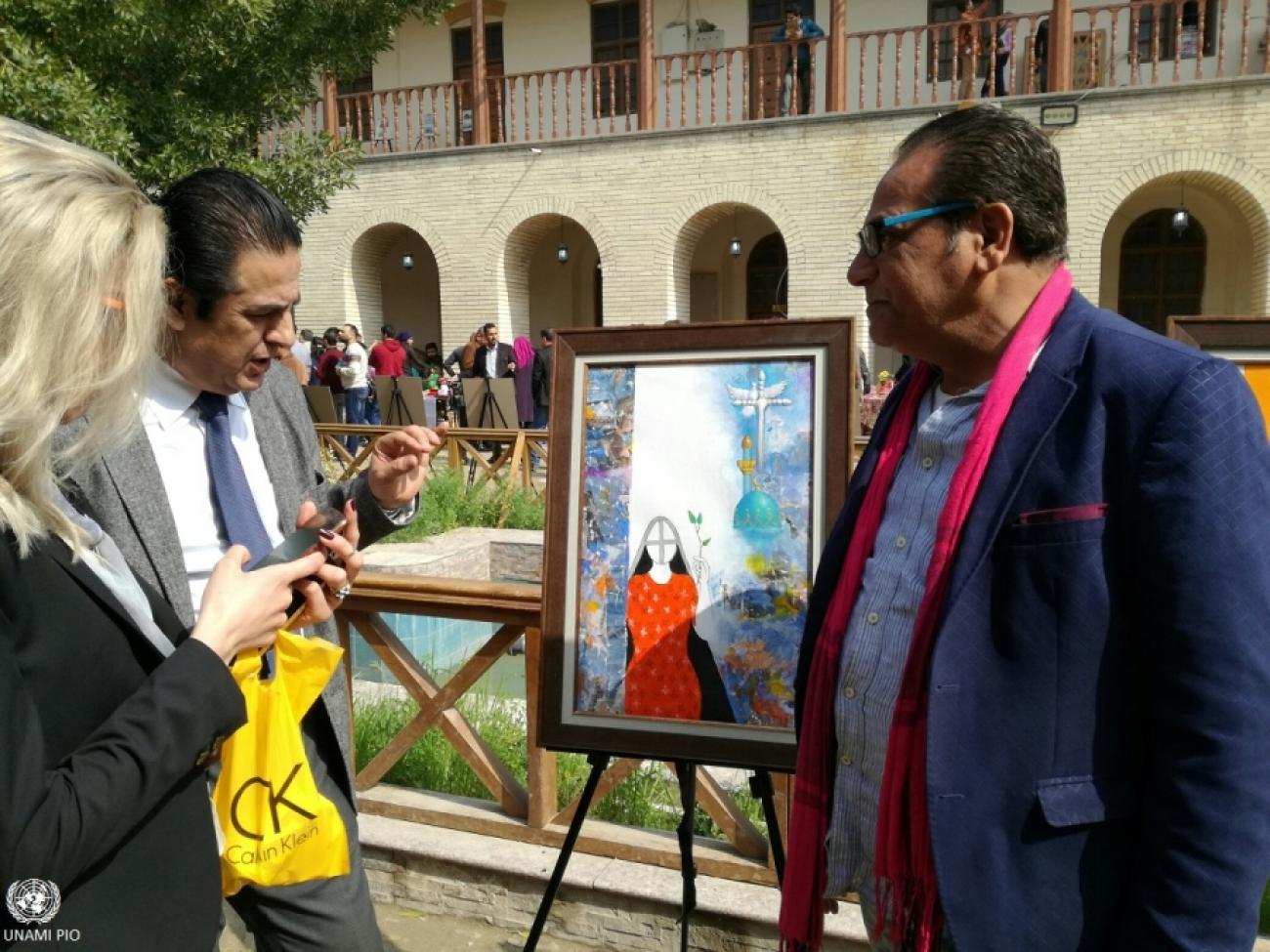 The beauty of Iraq truly stems from the roots of the country's rich, historical culture.
Baghdad - The beauty of Iraq truly stems from the roots of the country's rich, historical culture. Despite the fact that Iraq is currently embroiled in a battle to weed out the terrorist group Daesh from its soil and the fact that Baghdad has to endure the brunt of frequent bombings and terrorist attacks, Iraq boasts a rather vibrant, elegant, expressive, artistic and peaceful cultural scene. It is this part of Iraq that brings together people from all walks of life - irrespective of age, creed, colour, race, or gender - in the spirit of oneness, an energetic spirit that binds one another to appreciate the peace, joy, comfort and neutrality that art brings to one's imagination. The Art for Peace Exhibition in Baghdad, organised by the United Nations Mission for Iraq (UNAMI), in partnership with the National Reconciliation Committee of the Prime Minister's office, could not have made this notion any clearer.
Held on Friday 03 March 2017 in the courtyard of the Baghdadi Cultural Centre located in the heart of Al-Mutannabi Street - one of the oldest and best known streets in Baghdad and affectionately referred to as the historical literary jewel in the city - over 70 paintings, caricatures, and photographs by Iraqi artists were on display. While each artist used a different medium of expression, the unifying factor was that each admirable simple piece of work expressed hope for peace among all the people in Iraq, and the yearning of peace and reconciliation for the future to build a free and flourishing world for generations to come. The Iraqi painters, photographers and caricaturists who participated in this first-ever Art for Peace project were commissioned to produce works that portrayed their messages for peaceful coexistence and harmony, reconciliation and hope.
The event itself is a stark illustration of the resilience of Iraqis who are enduring a devastating conflict with the terrorist Daesh group which is in its last throes in Mosul, and a terrorist bombing campaign that is deliberately targeting civilians in Baghdad and elsewhere. It shows that despite the ongoing conflict in Iraq, art remains the language that brings people together in peace and reconciliation. It also serves to counter the destruction by Daesh of historic sites and works of art in the areas they controlled.
At the exhibition, the Deputy Special Representative of the United Nations Secretary-General for Iraq (DSRSG) for Political and Electoral Affairs, Mr. György Busztin, reiterated the importance of art in disseminating messages of peace, reconciliation, tolerance and coexistence. "Such endeavours by talented Iraqi artists, illustrators, painters and photographers transcends ethnic and sectarian differences and constitute the bedrock for an inclusive national reconciliation that will usher in the stability and prosperity for all Iraqis".
Raed Hassan, a young Iraqi caricaturist spends his time drawing images that are graphic and emotional but which carry explicit messages. He easily narrates how "having a peaceful Iraq is all that he wants, especially for the future of his children". Mr. Hassan pointed to one of his images – one in which there is a long queue of people, albeit mostly men, who seem to be in despair and a prominent syringe jutting into the leader's head, inscribed with the words "Peace". Mr. Hassan is very attached to this piece of work and in probing him for a reason, he simply states "Study the caricature carefully and see the simplicity of it all – all we need in Iraq is for everyone to inject the idea of peace in their minds, to be rid of all the evil and harmful notions, and to thus clean our minds and hearts so that 'peace' can filter into every vein and bone in our bodies". "What could be more powerful than this" he asks.
As the winter clouds gave way to a clear blue sunny sky, the colours on the oil paintings on display were easily entwined in the warmth of the sun's rays. Mohammed Musayir stood patiently next to his paintings, many of which portrayed his thoughts on reconciliation among all Iraqis. The one painting that stood out depicted tolerance of faith, with Mohammed saying that "faith has no face – which is why the lady in my painting has no face. She could represent Islam by the Abaya she adorns, or she could tell the story of Christianity with the Holy Cross laid across her face. In the background, I have the places of worship for both faiths – open and inviting for all who choose to unite and live in peace, dignity and harmony".
As Mr. Musayer shares his hopes for peaceful coexistence in Iraq, his thoughts are a reminder that engaging in dialogue, creating awareness and promoting tolerance and acceptance among peoples of different faiths, beliefs and cultures are key stepping stones towards building a hopeful and peaceful society in Iraq and across the globe.
After Baghdad, the Art for Peace travelling exhibition will be on display throughout March and April 2017 in the following Iraqi governorates Babil, Karbala, Thi-Qar, Missan, Basrah, Diyala, Salah Al-din and Erbil.
Written by
UN entities involved in this initiative
UNAMI
UN Assistance Mission for Iraq