Press Release
On International Day of Persons with Disabilities, the UN calls for strengthened efforts to ensure an inclusive society in Iraq
03 December 2022
3 December 2022; Baghdad – The United Nations (UN) joins the Government of Iraq and the international community in observing 3 December, recognized globally as the International Day of Persons with Disabilities. This day aims to promote an understanding of disability issues of people affected by natural disabilities and those induced by the war against terrorism, and mobilize support for the dignity, rights and well-being for those in need, in accordance with Iraq's national and international commitments.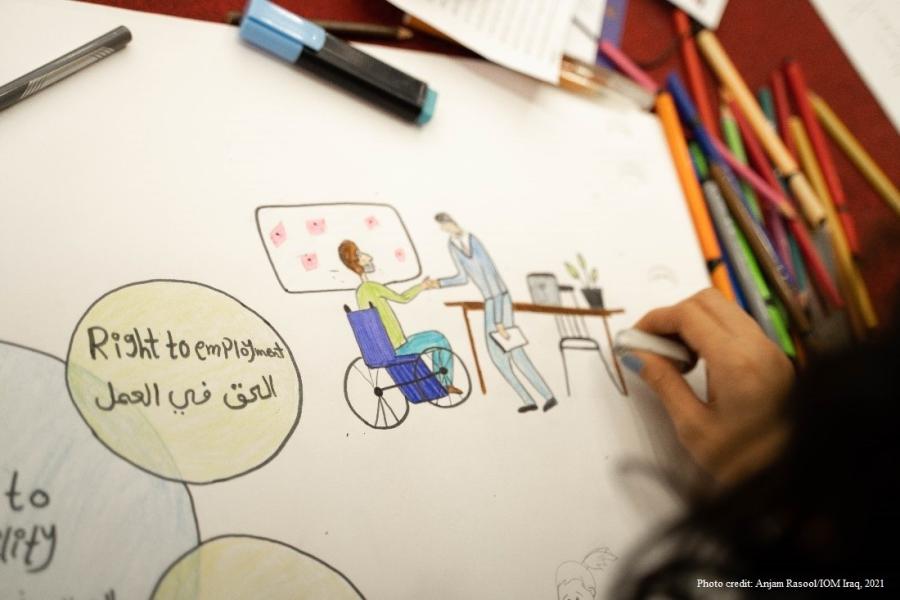 Iraq has one of the largest populations of persons with disabilities in the world, disproportionately impacted by decades of war and economic hardship. Their challenges could be exacerbated by stigma and discrimination.
In June 2019, the United Nations Secretary General launched the UN Disability Strategy. The Strategy provides the foundation for sustainable and transformative progress on disability inclusion through all pillars of the UN's work. Through the Strategy, the United Nations system reaffirms that the full and complete realization of the human rights of all persons with disabilities is an inalienable, integral and indivisible part of all human rights and fundamental freedoms. 
The UN is committed to support the Iraqi Government in upholding the dignity, rights and well-being of people with disabilities, including children living with disabilities. 
In Iraq, the UN system also has a role to play in promoting a rights-based approach in the delivery of humanitarian and development assistance through its work, including, but not limited to:
Supporting the Government of Iraq, and working jointly with the private sector and civil society, to promote an inclusive society for persons with disabilities, as concerns infrastructure, systems and policies;
Championing persons with disabilities' rights and equitable access to all services;
Advocating for more economic and employment opportunities for persons with disabilities;
Ensuring access of children and young people with disabilities to inclusive and quality education;
Supporting organisations of persons with disabilities (OPDs);
Amplifying the stories of persons with disabilities;
Improving accessibility of spaces, reading material and more, to accommodate participation in events and access to opportunity from people with a diverse range of disabilities;
Promote their meaningful engagement in decision-making processes;
Develop and share information in accessible formats, including instructions, directions and notifications.
The approaches must be inclusive and follow the "Nothing About Us, Without Us" motto; persons with disabilities must be consulted about the needs and challenges they face to better inform humanitarian and development programming.
"On 3 December, as every day, we must remember that the rights and well-being of persons with disabilities must be promoted within all spheres of society," said UN Resident Coordinator Ghulam Isaczai. "The UN in Iraq will continue to uphold this commitment and advocate for realizing the rights of persons with disabilities as part of an investment in a common future."
We must all continue to be guided by persons with disabilities and OPDs as they express their needs across every aspect of political, social, economic and cultural life, and also join them in celebrating their successes.
The United Nations in Iraq remains committed to support the Government of Iraq to strengthen efforts for the implementation of its obligations under the Convention on the Rights of Persons with Disabilities. 
UN entities involved in this initiative
RCO
United Nations Resident Coordinator Office
UNAMI
UN Assistance Mission for Iraq