Speech
Remarks by Under-Secretary-General and High Representative for the United Nations Alliance of Civilizations, Miguel Moratinos, at Sixth Ministerial Meeting of the Forum of Ancient Civilizations Baghdad, Iraq - 4 December 2022
Your Excellency,
Mr. Fouad Hussein, Minister of Foreign Affairs of Iraq
And Chairman of the Forum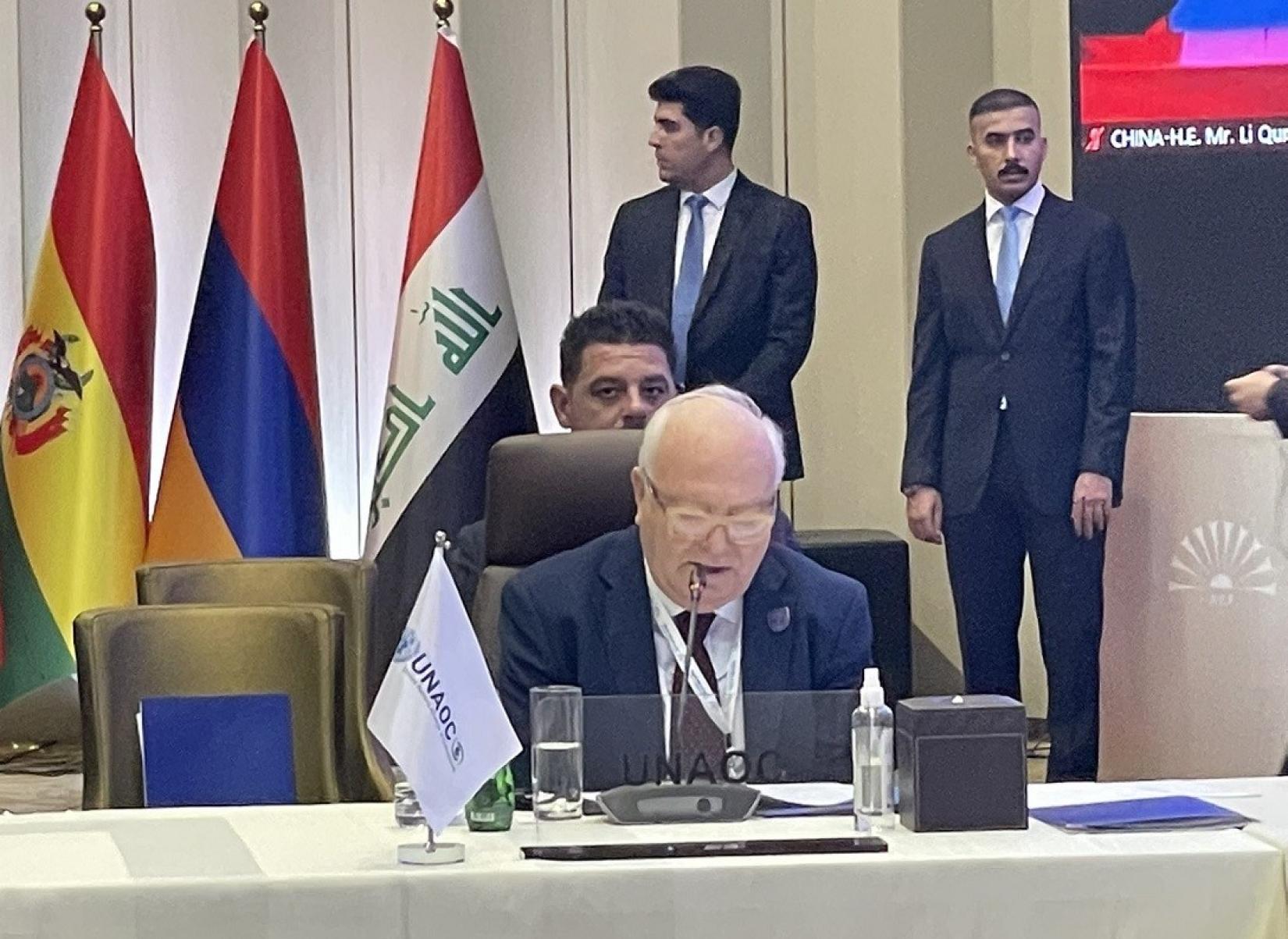 Excellencies,
Distinguished guests,
I am truly honored to be here today in your remarkable country.
I warmly thank the Government of the Republic of Iraq for the hospitality and the warm welcome.
I also wish to convey the support of the Secretary-General of the United Nations, Mr. Antonio Guterres who has delegated me to represent him in this meeting. Mr. Guterres firmly believes in intercultural and interreligious dialogue as a viable tool for peace.
This is my first visit to Iraq. A visit that is long overdue. But certainly, worth the long wait.
I could not think of a more perfect setting for a forum on ancient civilizations than Iraq, a cradle of centuries- old civilization.
The wealth of diverse religions, cultures and ethnicities enriches the colorful mosaic of the Iraqi society.
Cultural heritage sites and religious sites in Iraq and elsewhere reflects the people's identity and cements their sense of belonging.
The people of Iraq have always stood out as the embodiment of resilience.
They are a living experience of hope amid the darkest moments in Iraq's history.
Hope, resilience and solidarity of the Iraqis were the driving force that helped them defeat Da'esh and liberate their country of their menace.
But to ultimately defeat terrorism, our global efforts should also be complemented by addressing the root causes of violent extremism conducive to terrorism.
This is where the role of the United Nations Alliance of Civilizations come into play.
As the political initiative of the UN Secretary General for conflict prevention and conflict resolution through advancing intercultural and interreligious dialogue and promoting diversity and mutual respect.
With its emphasis on dialogue and cultural cooperation, I am pleased that your forum complements the work that the United Nations Alliance of Civilizations began more than 17 years ago and succeeded in creating a global platform for intercultural and interreligious dialogue.
Just a week ago, we have successfully organized our 9th Global forum in the historical city of Fez, Morocco. More than 1100 participants came to the forum including 98 member states, civil society organizations, religious leaders and youth.
I seize this opportunity to thank H.E. the Minister of Culture of Iraq for his valuable participation.
Distinguished guests,
It is important to remember the importance of protecting cultural and religious heritage especially against the backdrop of today's global context where people whose identities are defined by religion, culture or ethnicity, continue to be besieged by hatred and fall victim to discrimination and marginalization.
Religious sites and places of worship are universal symbols of our humanity.
The destruction of these sites diminishes us all as a society.
That's why the Secretary General of the United Nations tasked my office to develop the United Nations Plan of Action to Safeguard Religious Sites in the aftermath of the Christchurch attacks in 2019.
The Plan is a global call to rally around our most basic tenets of humanity and solidarity and to reaffirm the sanctity of all religious sites and the safety of all worshippers who visit houses of worship in a spirit of compassion and respect. The Plan is elaborated in consonance with Article 18 of the Universal Declaration of Human Rights, which affirms the right to freedom of thought, conscience and religion, noting that this right includes the right of individuals and communities to manifest their religions and beliefs in teaching, practice, worship and observance.
I hope that reference to this plan would be included in your declaration.
Distinguished guests,
In today's complex and multifaceted challenges, dialogue is a sine-qua-non for peace.
History has shown that dialogue is not a simple process, but that if we fail to teach and cultivate it, the situation can give way to a monologue or to mutism, which is conducive to conflict and violent extremism. HH Pope Francis describes it as parallel monologues.
The revival of cultural and civilizational dialogue is a pre-requisite for durable peace.
Once again, I am very pleased to be part of this initiative and I look forward to consolidating our collective efforts towards that end.
I thank you
UN entities involved in this initiative
UNAMI
UN Assistance Mission for Iraq