Press Release
On the Meeting of the High Representative for the United Nations Alliance of Civilizations and the Special Representative of the Secretary-General for Iraq with His Eminence Grand Ayatollah Ali al-Sistani
07 December 2022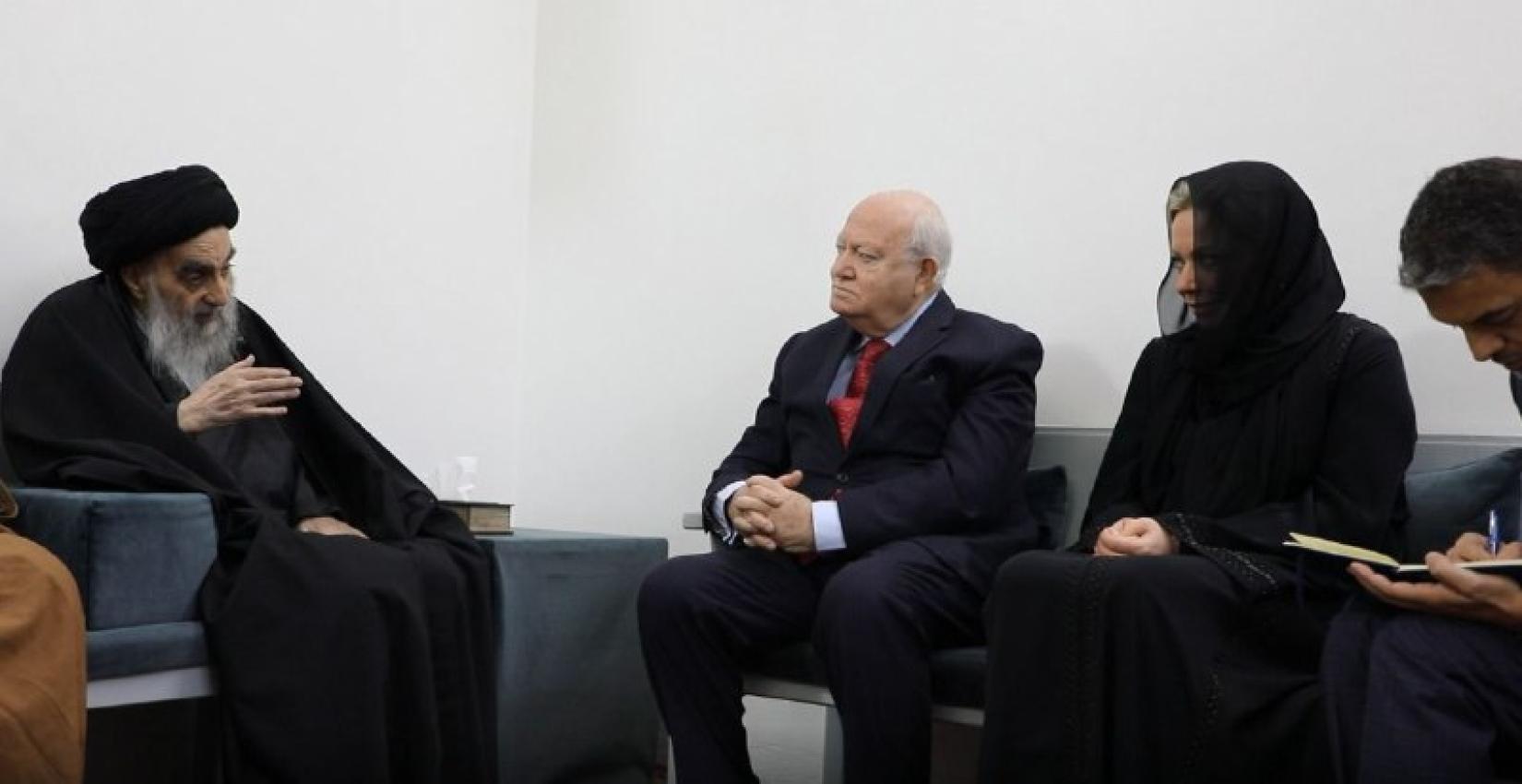 Najaf, Iraq
7 December 2022
High Representative for the United Nations Alliance of Civilizations (UNAOC) Miguel Moratinos, accompanied by Special Representative of the Secretary-General for Iraq Jeanine Hennis-Plasschaert, was extremely honored to have been granted an audience with His Eminence Grand Ayatollah Ali al-Sistani on 7 December 2022 in Najaf.
High Representative Moratinos lauded His Eminence's wisdom and compassion. He expressed how deeply moved he was by His Eminence's moderate approach and consistent appeals for mutual respect and unity to prevail in support of diversity and peaceful co-existence.
Recalling the meeting between His Holiness Pope Francis and His Eminence on 6 March 2021, the High Representative and His Eminence exchanged views on the importance of inter- and intra-religious dialogue, which lie at the core of the UNAOC mandate.
High Representative Moratinos also presented the "United Nations Plan of Action to Safeguard Religious Sites: In Unity and Solidarity for Safe and Peaceful Worship", developed in 2019 in the aftermath of the Christchurch attacks in New Zealand. In Iraq also, worshippers and holy sites have suffered tremendously.
The Plan of Action is a global call to rally around the most basic tenets of humanity, compassion and tolerance, to ensure that people are allowed to practice their faith and observe their rituals in peace. To this end, it is imperative that religious sites and places of worship and contemplation are true safe havens.
Launching the Plan in 2019, the High Representative presented the Plan of Action to His Holiness Pope Francis and to His Eminence Grand Imam of Al-Azhar Sheikh Ahmed Al-Tayeb. With today's meeting, Moratinos said, three major religious leaders represented through the Vatican, Cairo, and Najaf, have been engaged. The High Representative extended his full collaboration and support to any effort that contributes to building a peaceful, just and cohesive society based on mutual respect and human dignity.
UN entities involved in this initiative
UNAMI
UN Assistance Mission for Iraq