Speech
Statement by SRSG for Iraq Jan Kubiš to the Security Council [As Delivered]
New York, 16 February 2016
Mr. President,
In the past reporting period, the heroic people of Iraq have been steadily gaining ground against the so-called Islamic State of Iraq and the Levant (ISIL), which is gradually losing its appeal to the disenfranchised population. The liberation and holding of Beiji, Sinjar, and most of all Ramadi, and continuing clearance of the surrounding areas from ISIL fighters, have instilled the people of Iraq with hope that the country can and will be liberated from ISIL. It has also documented how important it is to rely on local and tribal fighters from areas under ISIL control to participate in the liberation and take responsibility for the security of their cities and provinces.
The success also demonstrates the increasingly resolute and effective support to Iraq of the Global Coalition to Counter ISIL in its fight against ISIL and provides lessons for preparations for the liberation of the remaining territories, most notably of Mosul. It serves as an encouragement for other members of the international community to assist Iraq in combatting ISIL.
Mr. President,
The terrorist organisation ISIL with its radical ideology and policies of sectarianism, violent extremism and terrorism constitutes a global and unprecedented threat to international peace and security. Combatting ISIL by all means is a priority of the whole international community and Member States are called upon to re-double and coordinate their efforts.
Following the 18 December 2015 meeting of the Security Council, bilateral and diplomatic efforts, assisted by international partners and the United Nations, continue to resolve the issues of the presence of Turkish forces in Camp Bashiqa, so far without mutually acceptable results. I reiterate the calls made by the Secretary-General for a solution in line with the Charter of the United Nations and in full respect of the sovereignty and territorial integrity of Iraq. I also urge both sides to take steps that will enable the deepening of cooperation in the field of security and continuous support in fighting ISIL, based on consultations with and full consent of the Government of Iraq.
Mr. President,
Regardless of the successes, ISIL remains a formidable and determined enemy that constantly adjusts its tactics and attack patterns, taking into account also the developments in Syria. ISIL cannot be defeated by military means alone, without addressing the root causes of violence and the underlying ideology, otherwise their effect will not be sustainable and lasting. Military victories need to be complemented by massive stabilisation and rehabilitation efforts that prioritise and allow for the safe return of IDPs to their towns of origin. Simultaneously, Iraqis must prioritise political and community reconciliation.
The lack of progress in implementing the National Political Agreement reflects the absence of political consensus and the continued pursuit of partisan interests. The stability, security and unity of Iraq hinge on an effective and inclusive political system and equality in decision-making at the federal and local levels. Tangible solutions to prevent political and sectarian exclusion have to include amendments to or adoption of priority legislation, followed by swift implementation, such as the Accountability and Justice Law, the National Guard Law and the General Amnesty Law.
Efforts by Sunni political forces and their leaders to unify their stance on national reconciliation, effective federalisation and decentralisation, and how to more successfully counter ISIL are equally necessary. I welcome such steps provided they add to internal consolidation and not divisions, while urging Sunni leaders and forces to continue such activities in the most inclusive manner possible.
Mr. President,
In early January, lethal attacks in Baghdad and in Muqdadiya, in Diyala governorate, perpetrated by ISIL and revenge violence by rogue militia elements and criminal groups prompted concern that the nation was again continuing down a spiralling trajectory of sectarian violence, compounded by internal political divisions along sectarian lines, as well as regional tensions and context. These attacks were an attempt to further stoke sectarian tensions and political polarisation in Iraq, and weaken the unity of Iraq and its people.
They also highlighted the urgent need to reach progress in intercommunal relations and swiftly restore state and local authority, rule of law, good governance, justice and provision of services to the newly liberated areas and exert firm control over all fighters and weapons. Security sector reform addressing the issue of uncontrolled armed groups and their presence in cities, notably in liberated areas, is a priority.
Mr. President,
Stabilization in liberated areas and the safe return of IDPs are of enormous political importance. I am happy to report that the stabilization phase of Tikrit is almost complete. Overall, the Government has given very high priority to returns and so far, more than 500,000 displaced Iraqis have returned to their home communities. The Government intends that up to 900,000 will return in 2016.
There are, however, a number of complicating factors impacting the pace of returns. These include a huge number of improvised explosive devices which have been laid by ISIL and which must be removed before populations can return home, as well as devastating destruction to infrastructure and homes. We are seeing this right now in Ramadi. I call on Iraq's regional and international partners to enhance their support to the Government of Iraq's efforts to hold and stabilise areas retaken from ISIL. These efforts also ought to focus on building the capacity of local security and police forces through training and material support.
Mr. President,
Persistent political polarization and divisions continue to hamper Prime Minister Abadi's ability to advance the reform agenda, including in decentralisation and fighting corruption. The Prime Minister's recent announcement aimed at establishing a more professional Cabinet with members selected on merit, and not on sectarian or political quotas, should be accompanied by accelerated implementation of a genuine political, security and economic reform package. The complex and deepening set of challenges before the country and its people requires that the political blocks finally work together in support of comprehensive and profound reforms, as they did when adopting the budget for 2016.
Iraq's persistent and rapidly-deepening fiscal crisis and growing budget deficit, compounded by the security and humanitarian situation and drastic decline in global oil prices, has almost halved the State's planned income since then, and the Kurdistan Region faces at least a situation as grave as that of Baghdad. Fiscal challenges are also likely to impact the fight against ISIL as a significant number of fighters, notably the Peshmerga, have not received salaries for several months.
I am mindful that if left unaddressed, such an unsustainable situation may seriously undermine the renewed morale of pro-government forces and confidence of the people, including youth, communities, minorities and IDPs that they can have a future in Iraq. And while the Governments in Baghdad and Erbil must rapidly prioritise and take full ownership over the state finances and reforms, I urge the international community to assist Iraq in overcoming these difficulties through increased technical support and funding, including through lending by international and regional financial institutions. Genuine economic reforms by the Governments in Baghdad and Erbil could pave the way to such financial and budgetary support.
Mr. President,
The severe economic crisis is having a sobering effect on the relationship between Baghdad and Erbil, with both sides showing renewed will to work together, militarily and economically, including on reforms. I am therefore hopeful that realism and pragmatism will prevail and help boost efforts in ensuring the stability and prosperity of Iraq, including the Kurdistan Region, needed to continue jointly the existential fight against ISIL.
Mr. President,
The humanitarian crisis in Iraq is highly complex, and is expected to widen and worsen this year. Today not only 3.3 million IDPs, but altogether some ten million Iraqis - almost one third of the population - urgently require some form of humanitarian assistance. Let's not forget – without the necessary support, today's IDPs will become tomorrow's refugees. Humanitarian needs are now so great that they far outstrip national capacities. The Government of Iraq and the Kurdistan Regional Government simply do not have the resources to keep providing assistance, not because of a lack of will or a reluctance to assume responsibility, but because of the grave economic and fiscal situation.
On 31 January, the UN jointly with the Government of Iraq launched a humanitarian appeal requesting US$861 million to help ensure that the most vulnerable people receive the assistance they need. On top of this, a potential catastrophe from the Mosul Dam adds new grave challenges and pressures and requires an urgent action of both the Government of Iraq and the international community, including the UN, as well as public awareness campaign and disaster response plans, including evacuation of the affected population in case of such catastrophe.
Mr. President,
Allow me to turn now to the ninth report of the Secretary-General on the issue of missing Kuwaiti and third-country nationals and missing Kuwaiti property, including the national archives.
As part of the Government of Iraq's reform programme, the Council of Ministers agreed on the distribution of the files formerly under the mandate of the Ministry of Human Rights, deciding to transfer the technical overview of the missing Kuwaiti persons file to the Ministry of Defence. While this is a positive step, the Government of Iraq must now implement the decision and allocate the needed financial resources to ensure that work continues unabated.
Cooperation between Iraq and Kuwait continues to reach new heights. In December, during the fifth session of the Kuwait-Iraq Joint Ministerial Committee, the parties signed agreements covering several fields, including youth and sports, inspection and control, and communications. Nonetheless, the international obligation of the Government of Iraq remains to ensure further progress.
Mr. President,
The UN continues to operate in difficult and often dangerous conditions in Iraq. With deep regrets I inform that yesterday we received the news that UNAMI's staff member abducted in April 2015 in Diyala, Mr. al-Kaissy, was found dead. I am deeply shocked and saddened about this news. I strongly urge the Iraqi authorities to conduct immediately a thorough and transparent investigation into this abduction and murder and hold the perpetrators accountable. I remind the Government of Iraq that national authorities bear full responsibility for serving justice in this case, as well as they do to safeguard and protect all UN personnel serving in the country.
BTSC
Speech by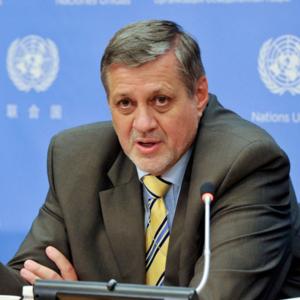 Ján Kubiš
UNAMI
Special Representative of the Secretary-General / Former
UN entities involved in this initiative
UNAMI
UN Assistance Mission for Iraq