Story
UNAMI hosts Cihan University students, explains the work of the UN and hears their views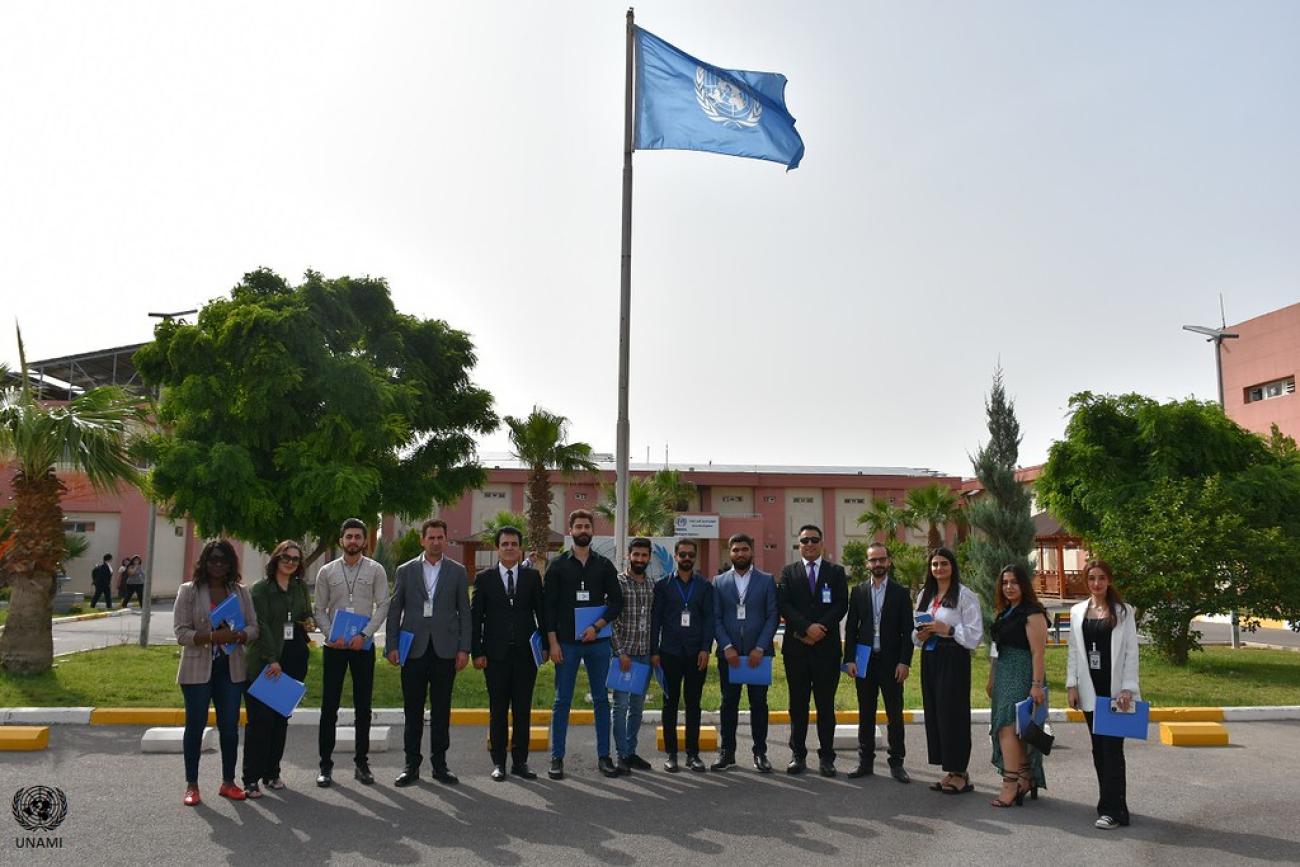 As part of outreach with different stakeholders to explain the work of the United Nations in Iraq, the UN Assistance Mission for Iraq's (UNAMI) Regional Office in Erbil hosted a group of students from the International Relations Department of Cihan University (Erbil) on 22 May 2023.
The visit, organized by the UNAMI Public Information Office, aimed to provide the students with an overview of UNAMI's work in the Kurdistan Region and to hear their views and concerns.
The Head of the Erbil Regional Office, Mr. Ricardo Rodriguez, welcomed the students to the UN compound. They were also briefed by UNAMI Senior Human Rights Officer in the Kurdistan Region, Mr. Florian Razesberger, Electoral Affairs Officer, Mr. Aso AlKakee, Associate Public Information Officer, Celia Dadson, and UNMAS Communication Senior Officer Ms. Krman Abdalqadir. The speakers discussed UNAMI's mandate, activities, and general UN-related topics on political affairs, human rights, public information and mine action.
The students – 17 males and 7 females - were accompanied by Mr. Mahmood Ismael, Head of the International Relations Department of Cihan University. During a tour of the UNAMI Erbil Regional Office compound, the students witnessed the work of UNAMI staff, both national and international, and interacted on various issues of interest.
In his remarks, Mr. Rodriguez said that UNAMI maintains good cooperation with the Kurdistan Region authorities and its institutions. He noted that the Mission leadership frequently visits the Kurdistan Region and meet with senior officials, community leaders, civil society organizations and institutions.
In briefing the participants, the Mission's Political Affairs Office highlighted their engagement with political parties and actors including with representatives of minority communities; while the Human Rights Office referred to the series of seminars they have conducted on the fundamentals of human rights for the judicial and security institutions as well as NGOs. Other sections of the Mission also deliver trainings on gender and youth aspects and on media relations. The United Nations Mine Action Service (UNMAS) briefed on their work, including the areas that have been cleared from explosive remnants of war across Iraq.
Mr. Rodriguez pointed out that such visits serve as a platform for positive interaction and building trust. Also, these outreach activities help not only to explain what UNAMI does, but also to learn from the public's input. He said that UNAMI is committed to working with the people of the Kurdistan Region to build a better future for all.
Rashwan Salih
UNAMI Public Information Office, Erbil
UN entities involved in this initiative
UNAMI
UN Assistance Mission for Iraq