Story
Remarks by Claudio Cordone, Deputy Special Representative of the UN Secretary-General for Political Affairs and Electoral Assistance, at the Women Political Forum, Al Nahrain Centre for Strategic Studies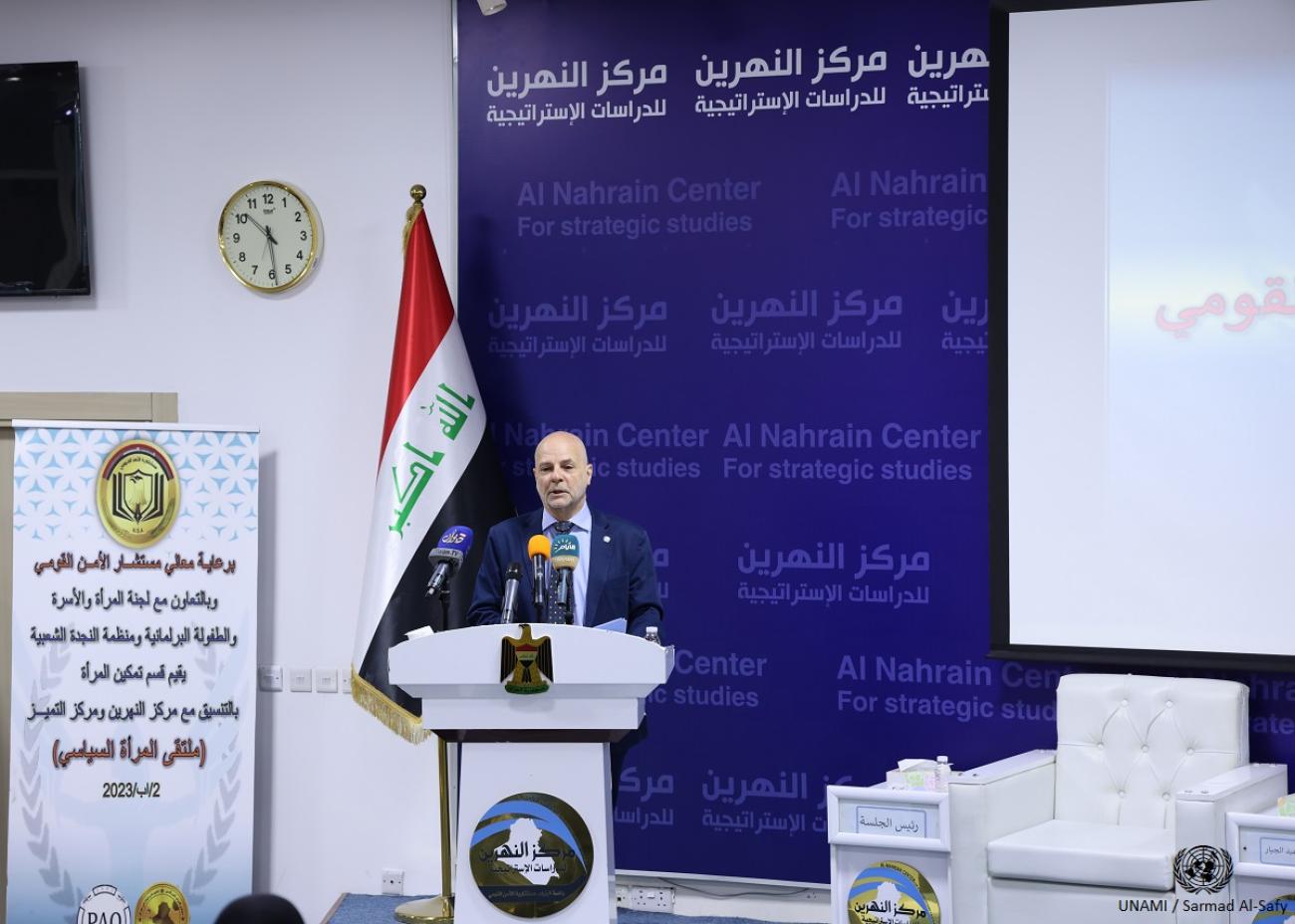 Distinguished participants,
Ladies and Gentlemen,
I am honored to be speaking at this event, which is coming during the preparations for the conduct of the Provincial Council elections planned for 18 December.
Let me start by stating what should be obvious, that is that women, like men, have equal rights and equal potential to contribute to social development and to political life.  However, as we know, women face many challenges when it comes to their role in public life and politics, including participation in elections. It is important that we take the opportunity of the forthcoming elections to promote an environment in which women can achieve their potential and make their own specific contribution.
In this context, we commend the Government of Iraq for establishing the High Committee to Support Women's Political Participation in the forthcoming Provincial Council elections. 
We welcome the recent launching of the Committee's workplan and look forward to working with the Committee in close coordination with the Independent High Electoral Commission, the institution tasked with overseeing elections which also undertakes initiatives to promote the role of women as candidates and voters.
We are pleased that the High Committee workplan is based on good practices and lessons learnt from the work of the previous committee set up for the October 2021 elections.  Good practices include the establishment of hotlines by the Ministry of Interior to receive security-related complaints from women candidates, and the appointment by the Supreme Judicial Council of judicial investigators to examine complaints of violence against women candidates, online and offline.
Dear participants,
UNAMI's work relating to the elections in Iraq is based on text of UN Security Council resolution 2682 (2023), adopted last May, which requires us to advise, support, and assist the Government of Iraq, the Independent High Electoral Commission and other Iraqi institutions with efforts to ensure free and fair elections and ensure the full, equal and meaningful participation, involvement and representation of women at all levels of decision making, including in the context of elections.
As examples of UNAMI's own work, I wish to highlight an audit recently conducted to gain a deeper understanding of political parties' support for enhancing women's leadership within party structures. This project built on previous initiatives by UNAMI, including conducting research on needs and challenges faced by Iraqi women entering politics, providing leadership training for women, and monitoring hate speech and violence against women candidates during the period leading to the 2021 elections.
Some of the recommendations arising from this audit include the adoption of an equality and non-discrimination clause in the founding documents of political parties; assisting women in preparing themselves for leadership roles; and promoting a safe environment for women to run for political office, for example, by signing codes of conduct prohibiting discrimination and hate speech against women.
As we know, the 2021 Parliamentary elections resulted in the election of 97 women, or 29 percent of the legislature, way over the quota of a minimum of 25 percent. The achievements of 2021 can be replicated if women mobilize and political parties demonstrate their good will and commitment to supporting women candidates.
As for the government, I welcome the inclusion in the programme of the government of Prime Minister Muhammad Shia Al-Sudani of a commitment to "empower, support and protect women as guaranteed by the Iraqi constitution and law".
In conclusion, I wish to reaffirm UNAMI's unwavering commitment to work with you and all relevant parties, in government and civil society, to advance women's full, equal and meaningful participation in the upcoming elections, and beyond.
Thank you.
UN entities involved in this initiative
UNAMI
UN Assistance Mission for Iraq