Story
Remarks by the SRSG for Iraq and Head of the United Nations Assistance Mission for Iraq (UNAMI), Ms. Jeanine Hennis-Plasschaert, at the Commemoration of Canal Hotel Bombing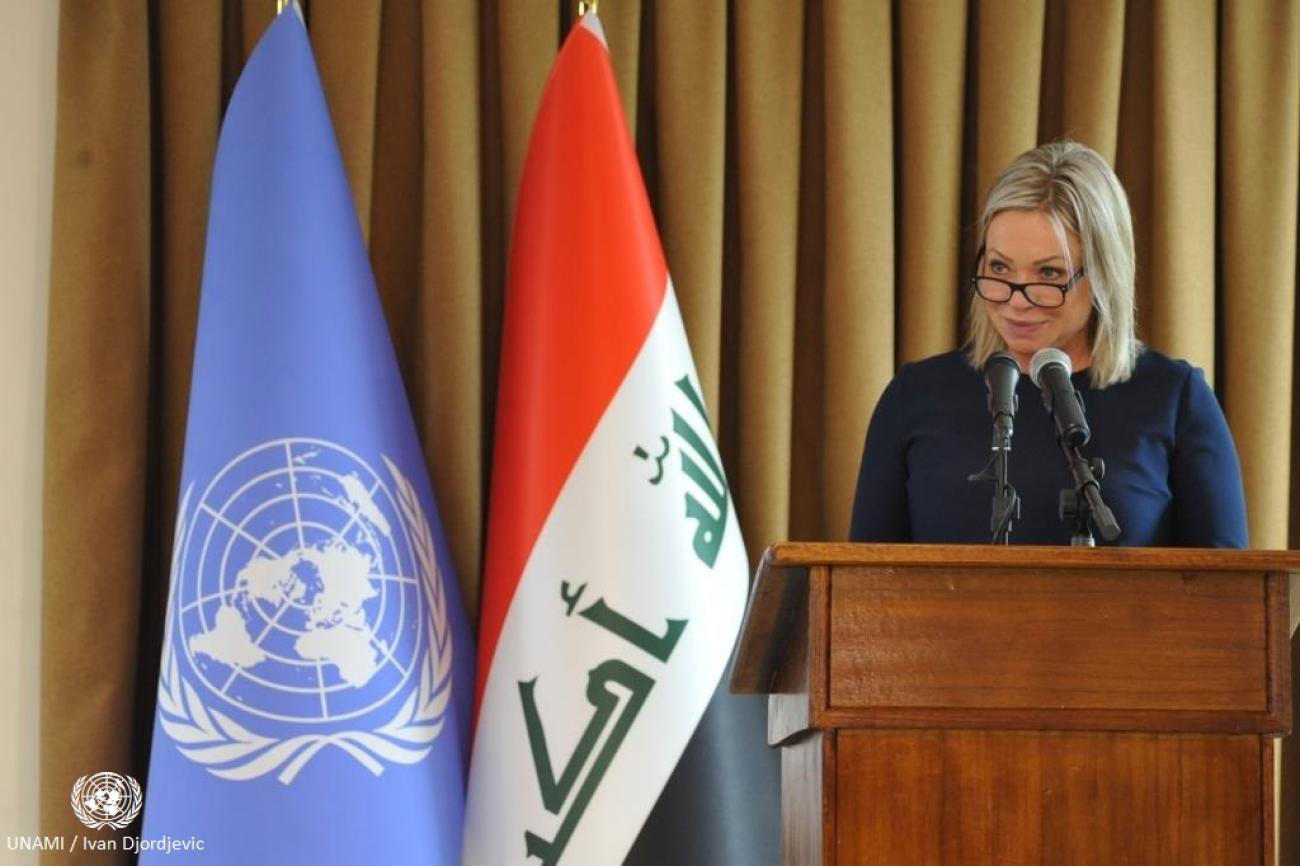 Excellencies,
Colleagues,
Ladies and gentlemen,
Good morning, Sabah-al-Kher.
We are here to commemorate, with great sadness, the 20th anniversary of the attack on the then-United Nations headquarters in Baghdad: the Canal Hotel.
Twenty-two lives were lost in the blast, including that of then-Special Representative of the Secretary-General, Sérgio Vieira de Mello. And, let us not forget, many more were injured or impacted in other ways, including by the loss of dear colleagues and friends.
Now, while this attack targeted the United Nations, the horror it represented was not contained within the parameters of the Canal Hotel.
Instead, the incident was an early swell of a tidal wave of violence, which went on to tear through the country, bringing unimaginable pain and suffering to too many Iraqis.
And, so, as we gather for this sombre occasion, we must remember all those who lost their lives to conflict in Iraq.
Now, as I said on many occasions, many of a memory must not be static. Rather, it should compel us to act; to recommit to doing all we can in pursuit of peace and stability.
This is all the more fitting given that, today, we are also marking what has come to be known as World Humanitarian Day. And, in doing so, we acknowledge the people across the world who are working – sometimes in the most challenging of circumstances, and at great personal risk – we acknowledge the people who are working to assist those in dire need.
Excellencies,
Ladies and gentlemen,
As flagged in my recent briefings to the Security Council, the past 20 years have brought about change in Iraq. Few would deny that it has been a very rough road. But throughout these years, the United Nations has not given up on its efforts to contribute to peace and stability in Iraq.
Meanwhile, from this site, which was once covered by the rubble of the Canal Hotel, the Al-Qanat Social Rehabilitation Centre has been born. The Centre provides, as explained already in advance of this gathering, both in- and out-patient treatment for substance abuse. 
And, yes, it is a very good example of a public service tailored to communities in need. And, with plans from the Ministry of Health to further expand the Centre, more patients stand to benefit from specialized, rehabilitative treatment.
In the meantime, the Iraqi Government has expressed its determination to step up service provision across the country, and to bring solutions to major challenges – whether related to water security, electricity, governance, or financial, economic and social reforms. And, we are hopeful that more and more rays of light will break through the darkness still clouding the lives of too many Iraqis.
Now, the wounds created by the 2003 attack – and the violence that came after it – run deep. And, the truth is: they may never fully heal.
But, while remembering the pain is difficult, we have a duty to never forget our colleagues who lost their lives. And, this commemoration may also act as a reminder to us all of our role in nurturing the conditions for the safety, security and prosperity of all Iraqis. 
Today, I wish to extend my deepest sympathy to those who are missing colleagues, friends and loved ones not only today, but every day.
Let us all do our part to embody the values of peace and tolerance for which those who lost their lives in the Canal Hotel attack stood. As my colleague Martin Griffiths, Under-Secretary-General for Humanitarian Affairs and Emergency Relief Coordinator, recently said: We cannot bring back those taken from us. But we can honour their memories by doing everything possible to support those continuing their work.
Thank you.
UN entities involved in this initiative
UNAMI
UN Assistance Mission for Iraq