Story
DSRSG/RC/HC for Iraq Visits FAO-EU Project Sites, Witnessing Empowerment of Rural and Peri-Urban Women and Youth Returnees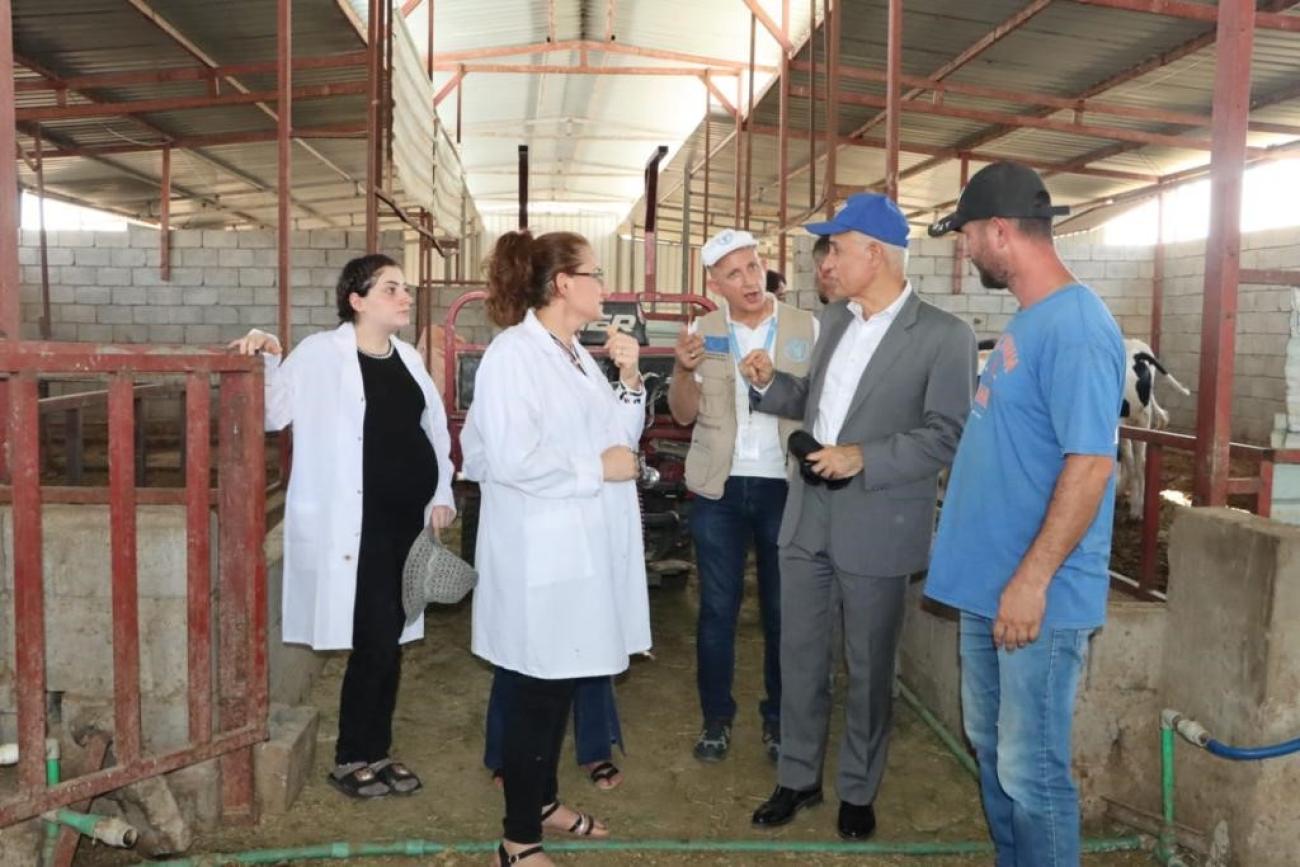 Bartella, Iraq – 30 August 2023
On 28 August 2023, the Deputy Special Representative of the United Nations Secretary-General for Iraq, Resident and Humanitarian Coordinator (DSRSG/RC/HC) for Iraq, Mr. Ghulam Isaczai, led a comprehensive visit to various locations across Ninewa, where diverse UN agencies have executed impactful projects.
This field visit encompassed project sites of the Food and Agriculture Organization of the United Nations (FAO), effectively showcasing the accomplishments of the "Enhancing Livelihoods for Returning Farmers in Rural and Semi-Urban Areas of Ninewa Province" initiative. Funded by the European Union (EU) and executed in close partnership with the Ministry of Agriculture, this initiative has notably uplifted the livelihoods of returning women and youth in Ninewa.
Accompanied by a delegation from UN offices in Baghdad, Erbil, and Mosul, in addition to Dr. Rabee Yousif Suran, Director of Agriculture in Ninewa, extension officers, and FAO representatives, Mr. Isaczai closely observed the tangible impact of FAO's efforts in Hamdaniya and Bartella.
During the delegation's first visit, Nariman and Maryam, two young women from Hamdaniya, shared their inspiring journey, which left a profound impression on all present.
Listening to their story, Mr. Isaczai learned that these two resilient individuals had been twice displaced due to conflicts. Each time they were uprooted from their homes and lands, they faced the distressing loss of all their belongings. Despite these setbacks, they partnered with FAO to rebuild their lives and their dairy small business. Empowered by FAO's provisions of equipment and comprehensive training, they gained invaluable skills.
Through the adoption of modern milk processing equipment and sustainable feeding practices, their livestock thrived on nutritious green fodder – a transformative innovation. Nariman and Maryam's determination propelled them to reclaim arable land, cultivating abundant green fodder. This move significantly elevated milk quality and animal health, leading to substantial increases in milk yields.
Furthermore, with the project's support, their small dairy venture expanded significantly. The number of their cows grew from three to 12, and they even rented nearby land to cultivate additional fodder. This expansion not only secured their families' livelihoods but also showcased the potential for sustainable growth within the broader community.
Dr Fayrouz Mohammed Ahmed, an extension officer at the Ministry of Agriculture who directly oversees the implementation of the project among beneficiaries in Hamdaniya, highlighted the remarkable success of those who have benefited from the initiative. The demonstrable impact has led to a surge in demand, leading her to advocate for the project's expansion to reach a wider range of beneficiaries. Given Ninewa's pivotal role as Iraq's livestock hub, she emphasised that the project's expansion has the potential not only to empower returning women and youth, but also to revitalise small and medium-sized dairy enterprises.
Continuing the journey, the delegation proceeded to visit Khalid Elias, accompanied by his wife and sister, whose evolution from modest milk collectors to proficient custodians of quality stands as an inspiring testament. Guided by FAO's support, they now harvest over two tons of milk daily. This abundant milk is transformed into high-quality dairy products, enhancing both product value and marketing opportunities, reaching various cities across Iraq.
Dr. Chedly Kayouli, FAO's International Livestock Expert, succinctly captured the essence of this transformation: "The trainings delivered on the utilization of modern and high-quality equipment provided, alongside innovative fodder cultivation techniques, stand as pivotal cornerstones in nurturing the development of beneficiaries' activities."
DSRSG/RC/HC Isaczai was enthusiastic about the project's impact: "During my visit, I witnessed first-hand the transformative impact FAO's support is having on local communities through its Livelihoods for Ninewa Returnees project. This initiative goes beyond reconstruction, sparking a wave of innovative ventures that are creating employment opportunities for many families and providing practical and sustainable solutions that resonate throughout conflict-affected communities."
Dr. Salah El Hajj Hassan, FAO's representative in Iraq, underscored the vital role of partnerships, saying, "The synergy between the European Union, FAO, and the Iraqi government is at the heart of this success. It's more than an investment – it's a testament to collaborative efforts that drive employment creation and sustainable livelihoods. The development of the value chain is the backbone of this transformation, as seen through the creation of about 200 women groups dedicated to dairy production. This initiative doesn't just secure livelihoods; it paves the way for economic growth and lasting change, especially for women and youth, in the Iraqi dairy sector."
This visit underscores the transformative power of sustainable initiatives, highlighting how collaborative efforts, such as those between FAO and the European Union, are driving positive change in challenging contexts, contributing in particular to the UN Sustainable Development Goals 1, 2, 5, and 8, aimed at eradicating poverty and hunger, promoting gender equality, and fostering inclusive economic growth.
For further information, please contact:
Khawla Ben Aicha, International Communications Specialist: khawla.benaicha@fao.org
Salah El Hajj Hassan: FAO Iraq Representative: salah.elhajjhassan@fao.org
UN entities involved in this initiative
FAO
Food and Agriculture Organization of the United Nations
RCO
United Nations Resident Coordinator Office