Story
UN Iraq aims for 30 percent less water consumption under UNAMI-UNICEF conservation project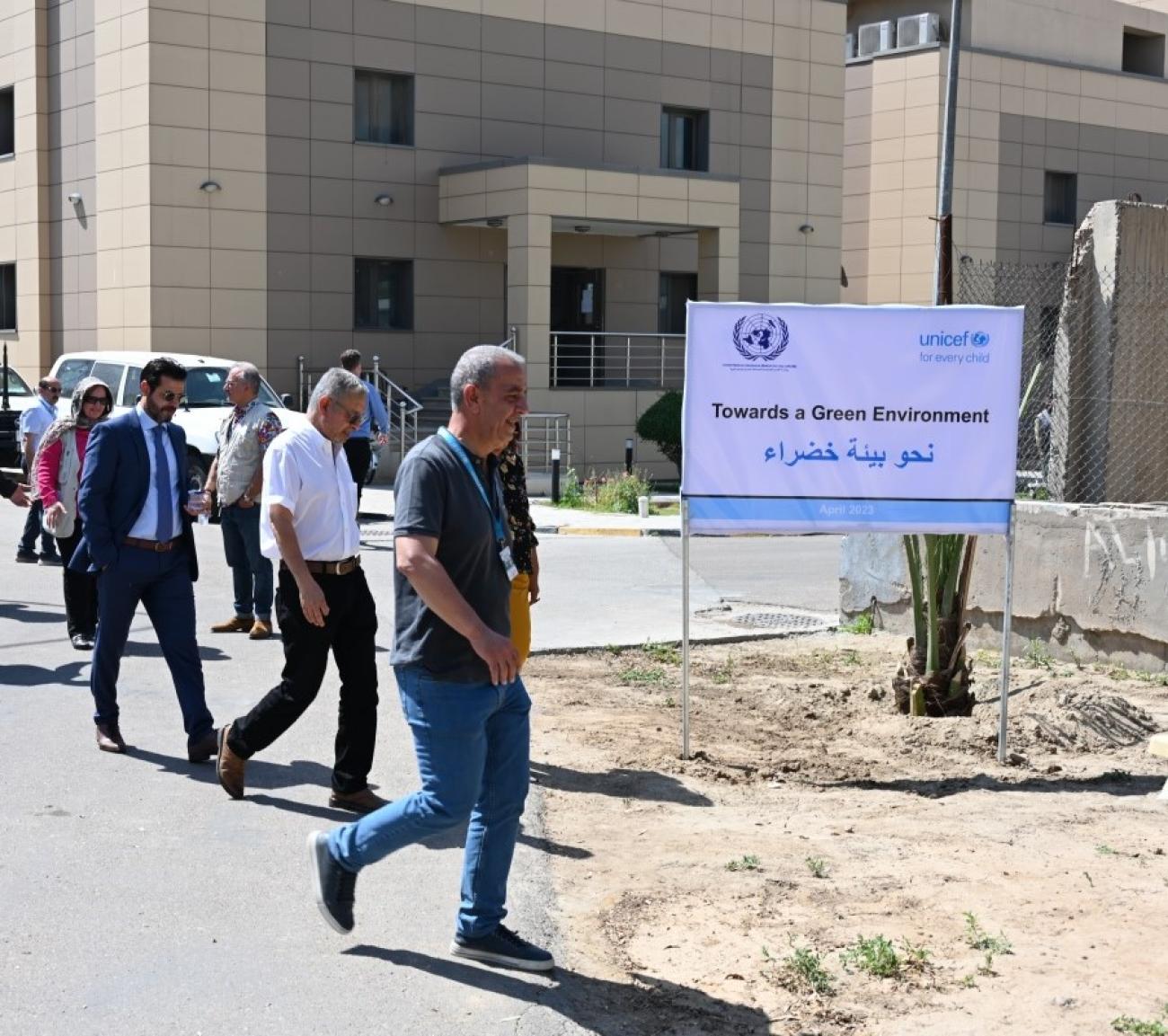 Freshwater scarcity is an ever-growing global concern, casting a shadow over environmental and societal well-being. Iraq, much like its neighbours, grapples with severe water management issues. Rising temperatures exacerbate the shrinking flow of the country's two major rivers, the Tigris and the Euphrates, and untreated wastewater discharge jeopardizes freshwater quality.
In addition to supporting the government in addressing the climate change effects, including water scarcity, through various activities and proposals for mitigation, the United Nations in Iraq also is doing its part, taking steps to reduce its environmental footprint in response to these challenges.
The collaboration between the United Nations Assistance Mission for Iraq (UNAMI) and UNICEF is bringing about a significant transformation in wastewater treatment facilities across four UN compounds in Iraq. This groundbreaking initiative promises a cascade of positive changes, impacting freshwater conservation and safeguarding water sources.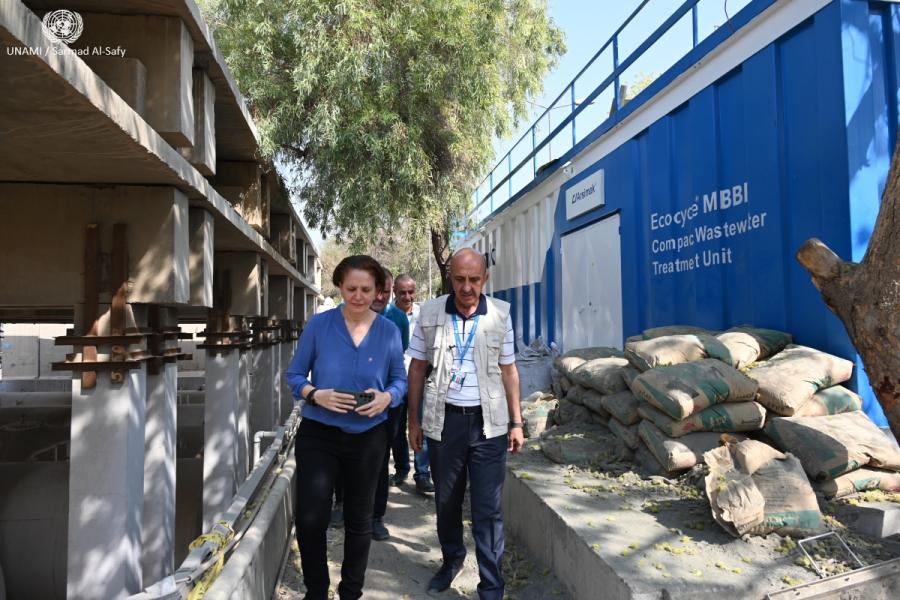 The primary goal of the initiative is to implement advanced wastewater treatment technology, processing all generated wastewater for purposes like irrigation, car washing, solar PV panel cleaning, and other technical uses. Although the precise cost is USD 1,160,000.00, the project is poised to mitigate environmental contamination and reduce overall costs. Furthermore, it aims to raise awareness about the judicious use of resources and enhance climate resilience among UN staff in Iraq. This comprehensive approach underscores a commitment to sustainable practices and environmental responsibility in the region.
In tandem, UNAMI is actively executing a comprehensive water conservation strategy, aiming to significantly decrease the demand for freshwater sources. Embracing sustainable practices, the Mission is shifting from manual watering methods to automated drip and sprinkler irrigation systems, optimizing the use of treated wastewater. Practical steps include replacing water fixtures in kitchens and bathrooms with low-flow, water-efficient alternatives, accompanied by awareness campaigns to educate staff on responsible water usage. The introduction of smart water meters for real-time consumption monitoring and leak detection further enhances these efforts. Together, these initiatives share a common objective of substantially improving water efficiency and minimizing wastage across UN compounds, aligning seamlessly with broader sustainability goals.
"We are absolutely thrilled to join hands with our UNICEF colleagues in this transformative step towards water conservation", said UNAMI Chief of Mission Support Harish Joshi. "Every drop reclaimed is a victory for sustainability and a powerful contribution to addressing Iraq's water crisis as 'One UN'. Together, we're making a lasting impact."
"This partnership between UNICEF and UNAMI enabled us to work on the Sustainable Development Goals, especially on the climate change agenda", said Sandra Lattouf, UNICEF Representative in Iraq. "This plant will contribute to water irrigation and plant fertilization. It will not only provide a green environment for the UN living in this compound and other compounds in the country, but it will secure great benefits for children in the future."
With the project slated for completion by the end of 2023, UNAMI aims to achieve a remarkable 30% reduction in its current freshwater demand, conserving a total of 43 million liters of freshwater annually. This achievement will set a high bar for environmentally responsible practices within the UN system.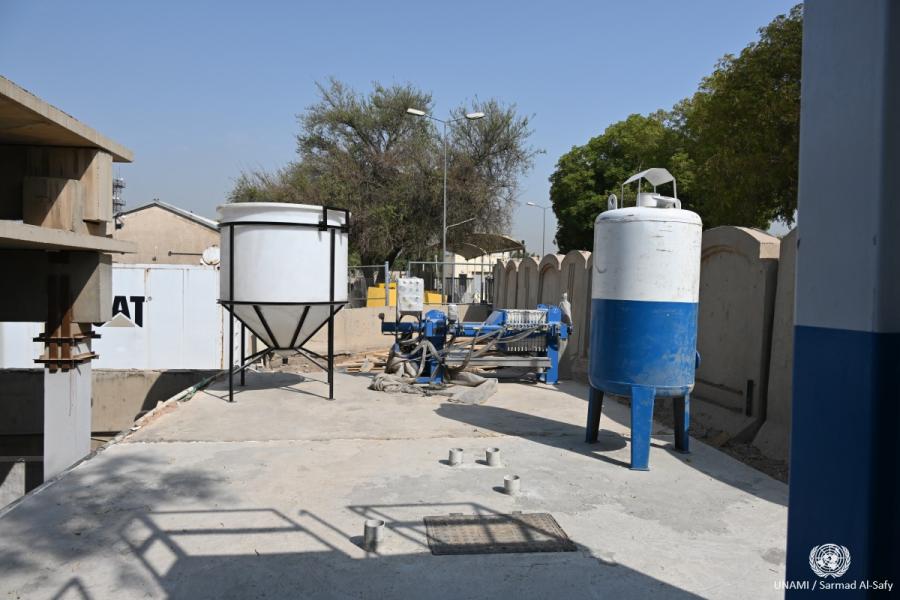 By tackling water and wastewater management issues head-on, the United Nations in Iraq not only enhances its own environmental sustainability but also contributes to Iraq's ongoing efforts to combat water scarcity.
As freshwater scarcity continues to threaten communities worldwide, the efforts of UNAMI and UNICEF in water conservation stand as a testament to what can be achieved in addressing critical environmental issues. The impact of this initiative will extend beyond the walls of the UN compounds, and it is hoped it could inspire others to act in the battle to safeguard our planet's most precious resource: water.
UN entities involved in this initiative
UNAMI
UN Assistance Mission for Iraq
UNICEF
United Nations Children's Fund