Story
Strengthening IDP-owned Businesses and Upscaling a Workforce through Entrepreneurial Training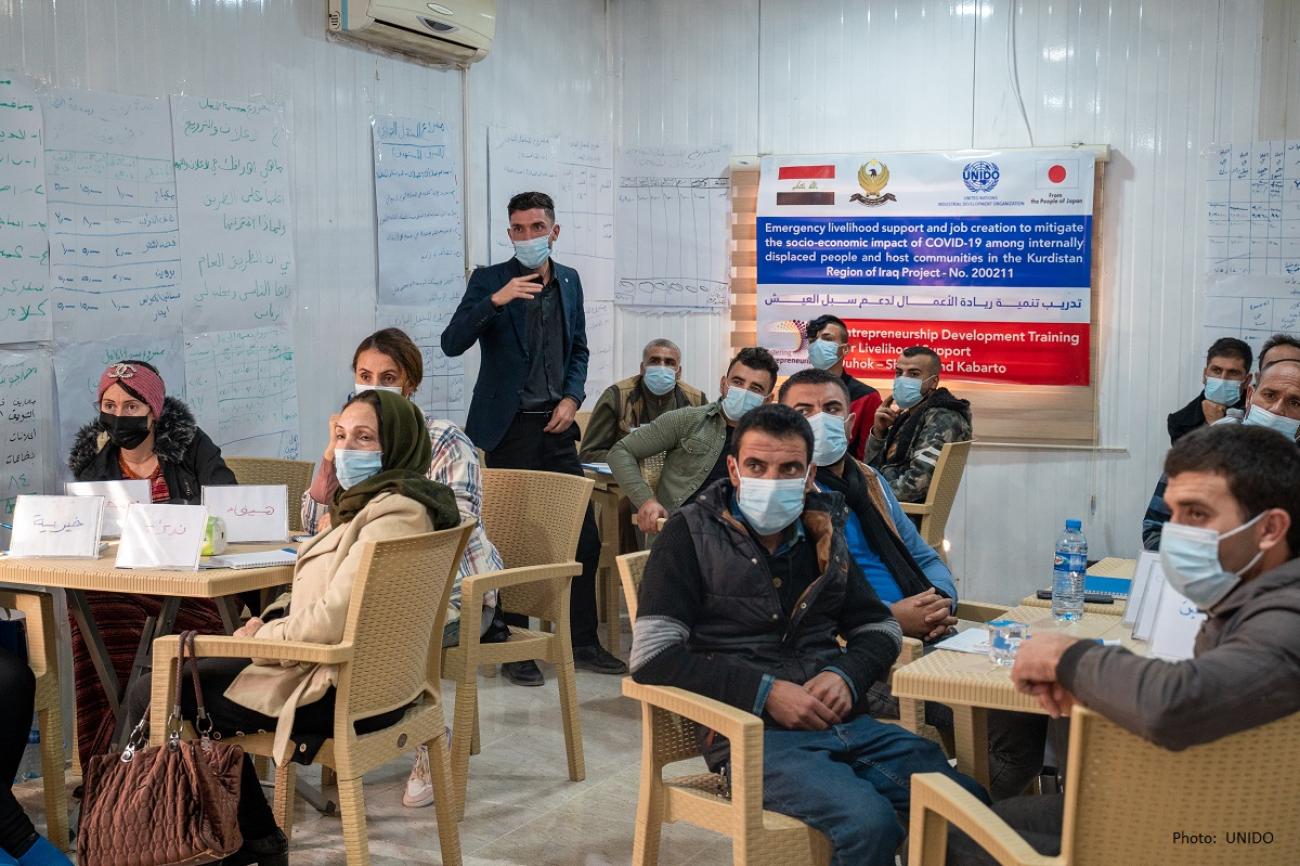 Strengthening IDP-owned Businesses and Upscaling a Workforce through Entrepreneurial Training
Thanks to the generous support of the Japanese Government, UNIDO has organized Entrepreneurship Development Programme (EDP) trainings at the Shariya and Kabarto IDP Camps, aimed at promoting entrepreneurship and upscaling a workforce. The ten-day, 65-hour entrepreneurship training programme collaborates with 43 existing micro businesses located within the Camps and strives to make these businesses more sustainable and resilient, especially in light of the socio-economic impacts of the COVID-19 pandemic.
The training, which includes sessions such as marketing, management and budgeting, is designed to help the IDPs leverage their past career experiences, improve upon existing management skills and acquire new knowledge in order to sustain and improve their micro businesses.  Participants and collaborating entrepreneurs receive asset support in the form of equipment, tools and supplies to strengthen their enterprises towards success.
Khalaf Murad Ilyas, originally from a village near Sinjar town, Nineveh Governorate, participated in the programme as a means of expanding the barber business he has established in the Camp. Back home in his village, Khalaf was involved in his family's small barbershop and worked alongside his father and uncle.
Having only finished primary school, Khalaf says that, prior to the programme, he had not been exposed to skills like developing a business plan, and setting goals for business expansion.
"I learned how to manage my time and how to formulate a vision for the future, "Khalaf says of his experiences in the programme.
"I plan to develop my business to have a good income to improve the situation of my family."
Nada Yusif Kalo, another programme participant, operates a small sewing shop in Kabarto IDP Camp. A divorcee with 4 children to support, Nada has been displaced since 2014.
Nada worked as a seamstress at a clothing factory in Mosul for five years, before deciding to go into business for herself. Nada opened a small workshop at her home in Mosul after making an agreement with the factory who had employed her—taking in outsourced work from the factory, in addition to growing her own customer base.
Using credits and loans, Nada had made significant investments in her home-based business until Mosul fell into the hands of ISIS, forcing her with her family to flee and losing all her equipment to looting.
After being in the camp, she had to start work again to secure income for her children. She opened a small shop with simple equipment. The skill and experience she had could secure her some income.
"There are many skills that I lacked and did not have any idea on those I learned from the training such as, managing your business, advertising and promoting of your products, and also how to calculate profit and loss.  These are crucial to the development of one's business," Nada says.
Nada says that her business felt the impact of the Covid-19 crisis, as fewer social gatherings equated to less need for new clothing. Despite this, she is beginning to see her business return, thanks to vaccines and bettering mitigation efforts.
Thanks to the support of UNIDO, she intends to expand her business, and serve as a training vehicle for other women in need of skills training to gain independence and escape poverty.
"If you do not think of others you cannot think of yourself," Nada says.
UN entities involved in this initiative
UNIDO
United Nations Industrial Development Organization