Story
Kirkuk marks International Day of Peace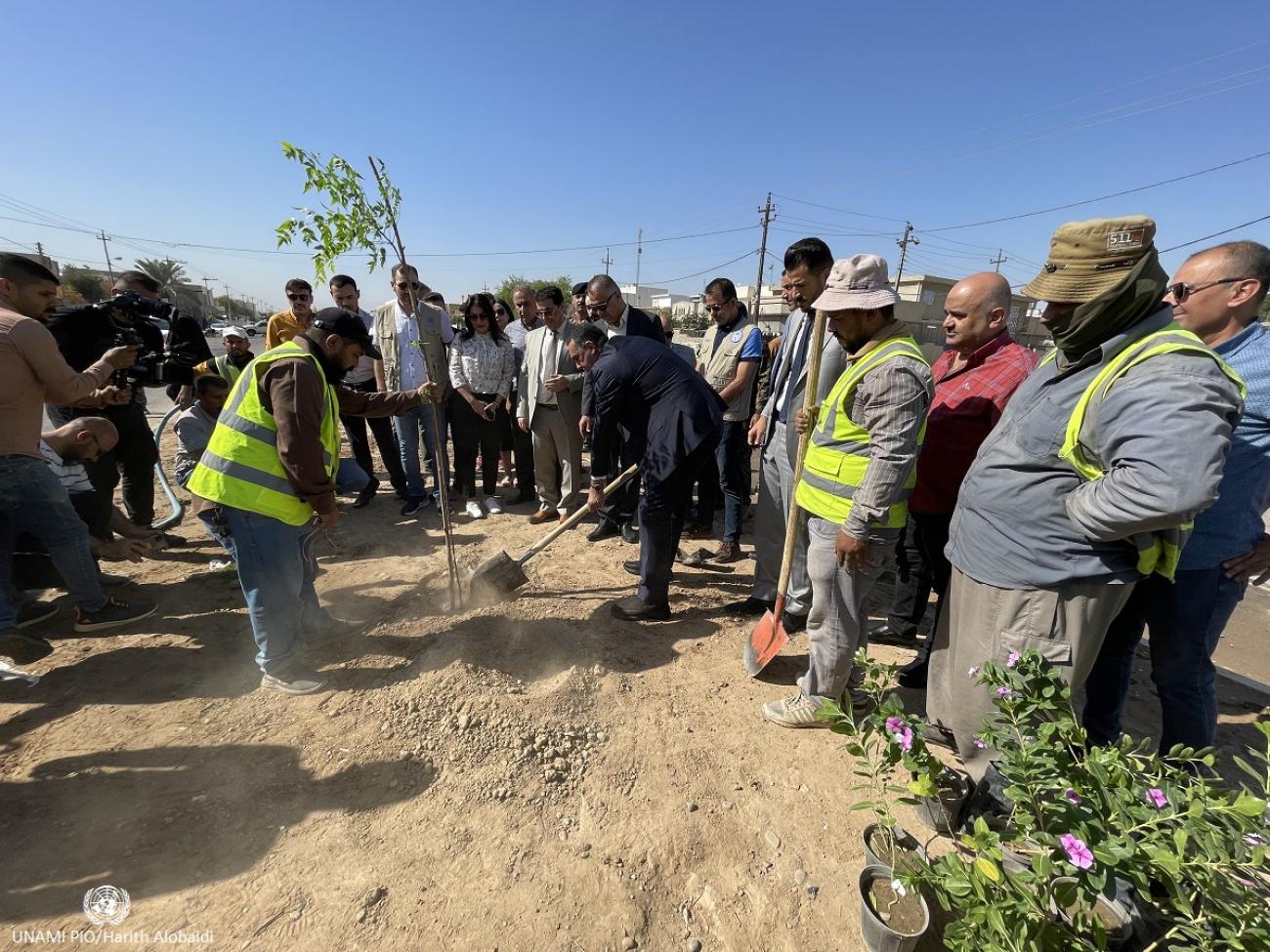 By Martijn Dalhuijsen, Coordination Officer for Kirkuk & Ninewa
Development Support Office, United Nations Assistance Mission for Iraq
On 28 September 2022, the UNAMI-Kirkuk Office marked International Day of Peace by kick-starting a tree-planting campaign to raise awareness about climate action and highlight little steps that can be taken to combat the adverse effects of climate change.
Present at the event, the acting Governor of Kirkuk, H.E. Rakan Al-Juboori, graciously planted the first tree sapling, with Governorate dignitaries, civil society representatives and United Nations staff following suit by planting an additional 150 tree seedlings.  In his remarks, he said that "Kirkuk Governorate welcomed this inspiring initiative by UNAMI and was pleased to participate in taking concrete steps towards addressing the effects of climate change in the Governorate".
Thanking Governor al-Juboori for this support, Martijn Dalhuijsen, UNAMI Coordination Officer for Kirkuk and Ninewa, noted that "the Governorate of Kirkuk has been actively engaged with establishing a "Culture for Peace", and 2022 marks its 20th Anniversary of the Programme of Action on a Culture of Peace.  It is thus fitting that this year's theme for the International Day of Peace: "End Racism. Build Peace", highlights how the Kirkuk Governorate is home to several multi-ethnic and multi-cultural groups with different religious backgrounds".
The tree-planting activity in the Governorate, which was recently launched by the Special Representative of the United Nations Secretary-General for Iraq, Ms. Jeanine Hennis-Plasschaert, further symbolises how diverse communities unite to bury their differences and live together in peace and harmony".
The day's activities also consisted of showcasing vibrant T-wall artwork by local painter Fatima Fazel and her NYN group of street artists.  Illustrating use of different mediums to spread messages of peace, the mural paintings were commissioned under the UNAMI Art-for-Peace Project.  Ms. Fazel was excited about exhibiting her work and partnering with UNAMI in this creative project, and is determined to continue employing her skill and passion to raise awareness about the urgency of protecting our planet as well as conveying messages of peace and hope. 
The day concluded with a "Sports for Peace" football match between teams of different ethnicities, united to achieve a common goal of acceptance, friendship and solidarity. 
As mandated by UN General Assembly Resolution A/RES/36/67 in 1981, the International Day of Peace provides an opportunity for all of humanity to commit to peace above all differences and contribute to a Culture of Peace.
UN entities involved in this initiative
UNAMI
UN Assistance Mission for Iraq