Story
UNIDO Empowers Iraqi Officials through Comprehensive Training on Food Safety and Hygiene to Address Food Insecurity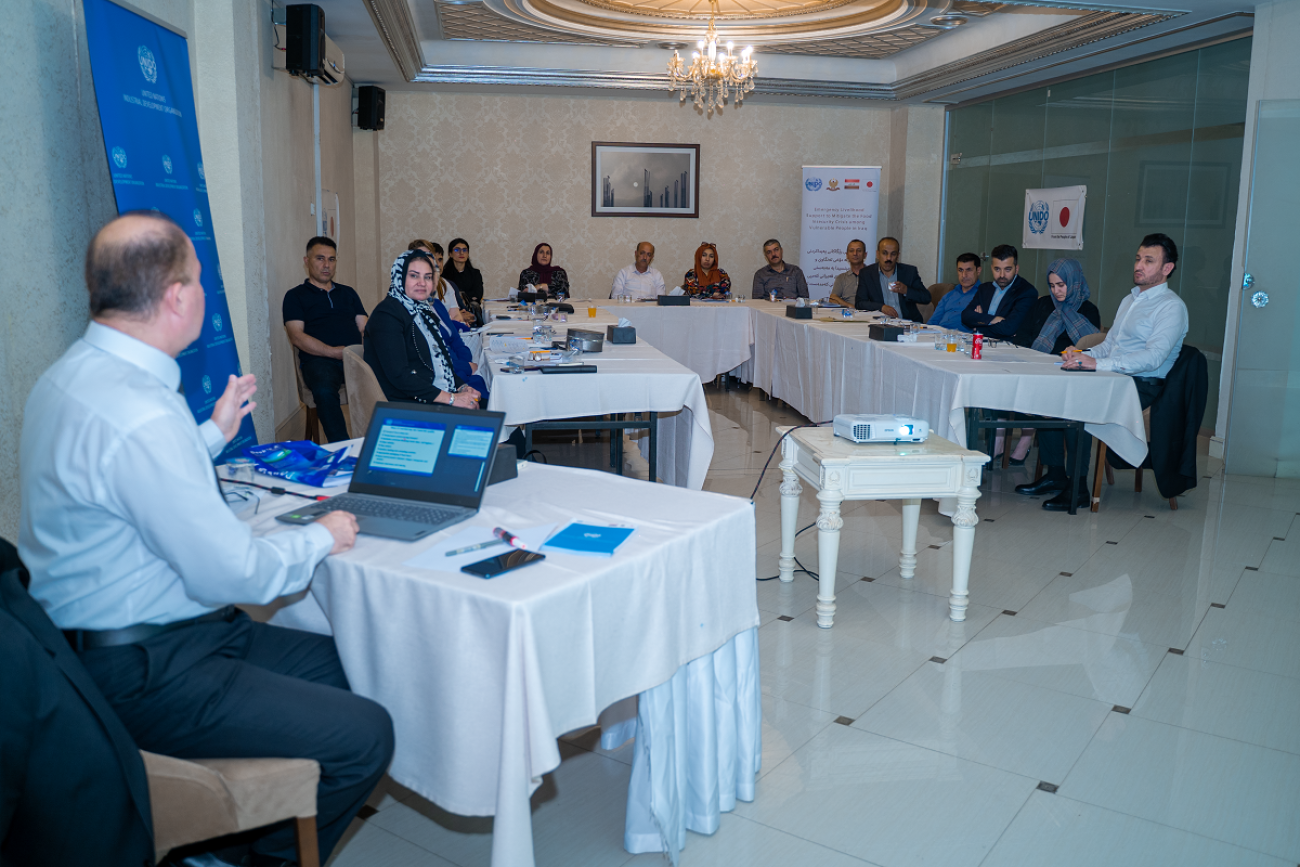 The United Nations Industrial Development Organization (UNIDO) has successfully concluded the first of two extensive training programs on food safety and hygiene as part of the Japanese-funded project, "Emergency livelihood support to mitigate the food insecurity crisis among vulnerable people in Iraq." Government officials from the ministries of Health, Agriculture, and Industry in the Kurdistan Region of Iraq (KRI) underwent a rigorous training session from May 13 to 18, 2023.
The comprehensive training course aimed to strengthen the understanding and skills of government officials, providing them with the tools and knowledge required to enhance food safety, hygiene, and quality. By familiarizing participants with the highest food safety standards and ministry guidelines, the training aimed to equip them to provide extension services and share best practices with food service establishments, facilitating greater compliance with industry regulations.
During the six-day sessions, participants delved into various aspects of food handling, processing, storage, and contamination. Esteemed food safety experts from the Quality Control Department under the Ministry of Industry led the training, imparting in-depth knowledge on measures, tools, and regulations for the safe handling of food.
Khalis Muhmamed, a participant of the training, expressed his satisfaction with the program's outcomes, stating, "we now possess a deeper understanding and the necessary skills to conduct food safety checks. Equipped with this knowledge, we can guide food manufacturing workers in enhancing their food safety practices, thereby fostering growth within their businesses."
Recognizing the pivotal role of food safety in sustainable development, Muhmamed added, "Food safety plays a crucial role in agricultural development and food security, forming the foundation for long-term, sustainable growth."
The training also emphasized the significance of food safety in safeguarding public health. Arkhawan Ibrahim, another participant, highlighted the program's focus on the risks associated with food processing, stating, "The training shed light on quality assurance and enhancement measures, addressing key determinants of human health."
Acknowledging the shared responsibility in ensuring food safety, Ibrahim emphasized the collective effort required from all members of the food supply chain and regulatory authorities to detect malpractices and hazards.
Armed with their newfound knowledge and skills, the participants are now equipped to provide food enterprises with expert guidance on food safety practices, ensuring compliance with existing regulations. Establishing consumer trust in the quality and safety of local food products is essential for fostering economic growth within the food industry and generating increased employment opportunities.
The UNIDO-led training program marks a significant milestone in enhancing food safety standards and addressing the food insecurity crisis in Iraq. By equipping government officials with the necessary expertise, the project aims to promote sustainable development, agricultural growth, and improved food security across the country.
UN entities involved in this initiative
UNIDO
United Nations Industrial Development Organization