Story
"Path to Prosperity: Bartella Businesses Receive Safety and Hygiene Training"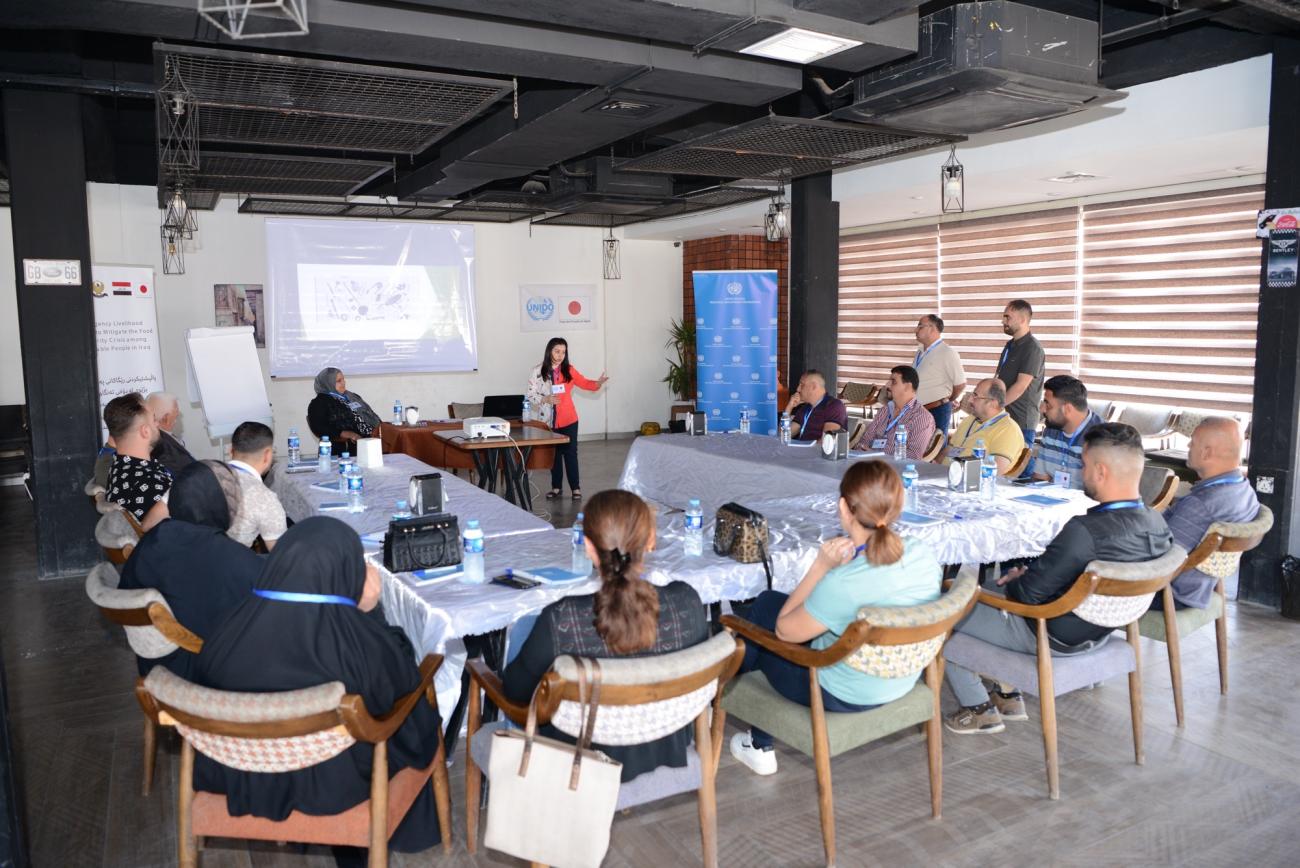 A training program on Safety and Hygiene implemented by the United Nations Industrial Development Organization (UNIDO)
has successfully brought together a diverse array of small and medium enterprises (SMEs) operating in and near Bartella, a small town located in Nineveh Governorate, 21 kilometers east of Mosul.
The Safety and Hygiene Training Program for SMEs in Bartella is a holistic endeavor designed to empower local businesses with the expertise and competencies required to guarantee workplace safety, uphold rigorous hygiene standards, and flourish in the fiercely competitive business arena. The intensive 7-day program united 14 chosen project beneficiaries, serving as a forum for imparting technical knowledge and skills. This training took place from October 15 to October 21, 2023.
The training program is also committed to promoting inclusivity and gender diversity among its participants. The program attracted a mix of four female and 10 male entrepreneurs reflecting the shared desire to improve business practices and ensure safety and hygiene standards within their respective enterprises.
These 14 SMEs span over a wide spectrum of products contributing to the rich economic tapestry of the region by producing a variety of local food items that are a staple in Iraqi and regional cuisine. These SMEs produce various items like bulgur, pasta, dairy products such as cheese, butter and yogurt, tahini (sesame paste), sweets and pastries, and olive oil.
The training program covered the most important elements of food production, including, but not limited to workplace hygiene and safety, personal hygiene, safe food handling practices, necessary equipment, the importance of temperatures, packaging and storage management, and quality control of products.
Ms. Raida Yaqub Matti, one of the 14 SME owners told UNIDO she learned valuable information through this training program. "From this course, I learned how to preserve the product and how to properly preserve raw materials so that they maintain their validity and resistance to conditions," Matti, who owns Al Mahaba Bakery in Bartella stated. "We were suffering from a lot of material damage due to our lack of knowledge of how to preserve these materials at appropriate temperatures, as well as using accurate measures and weights," she added.
Matti continued, "We need to have products at the level of imported foreign products, and thus to be able to compete and achieve more profits." She stated. Commenting on how businesses that received the Safety and Hygiene training could contribute to the Bartella community, Matti said, "Increasing and raising the percentage of sales means increasing profits and expanding work, thus providing more job opportunities."
Training also included business management methods such as how to staff the business efficiently, intensive financial management procedures, employee relations and management, and strategies for promoting and marketing their products to gain a competitive advantage in the market.
Another trainee and owner of Rashi Al Fauni Tahini Company in nearby Bashiqa, Sabah Sulaiman Jameel, was happy to be chosen to be a part of the training. "Participation in UNIDO's training is the first of this kind," he stated, "I learned a lot about methods of managing my business, whether in terms of financial management, production management, or management of individuals and workers," he stated, "Previously, we only had basic information in these areas, which was strengthened, developed, and expanded through these courses." Jameel added, "We also learned how to maintain or raise the quality of the product, promotion, and marketing in order to achieve greater sales."
Since the training has been completed, a comprehensive assessment will be conducted in the coming days to understand the specific needs and requirements of the beneficiaries for their businesses. This assessment will identify the equipment, tools, or resources necessary for them to implement the training's principles effectively. These vital resources will be procured to support the beneficiaries' businesses and ensure that the training's benefits are realized in practice.
The trainers leading this initiative include experts from the Ministry of Industry and Minerals in Iraq. Their knowledge, experience, and commitment to advancing business practices and safety standards are invaluable to the success of this training program in addition to their wealth of expertise in various aspects of industrial and business operations, further enhancing the quality of the program.
Ms. Ramina Athnael Yousif, Technical Trainer and Associate Director of Project Development within the Ministry of Industry and Minerals was one of several trainers involved in the Safety and Hygiene Training Program for SMEs. "Training programs [like these] play an important role in supporting small and medium business owners." She emphasized.
Yousif gave examples of how training programs like these help SMEs, such as increasing awareness of employers and employees on safety and hygiene in the workplace, promoting compliance so that business owners can avoid legal problems and penalties, reducing work injuries and absences, thus increasing productivity, reducing costs associated with occupational accidents and illnesses, and enhancing the business' reputation through a commitment to safety and cleanliness.
"In general, safety and hygiene training programs contribute to improving the work environment and ensuring employee safety and business success. Therefore, it plays a vital role in supporting SMEs and enhancing their sustainability." Yousif added.
Another technical trainer for the EDP program, Mr. Bjar M. Salih, believes that training programs such as these hold immense importance for SMEs, equipping them with the necessary knowledge and resources to enable them to achieve enhanced efficiency, cleanliness, and productivity in their operations.
Mr. Salih also mentioned that trainees showed great enthusiasm about the comprehensive training as they appreciated the academic knowledge provided that could be added to their traditional expertise. "The significance of this training lies in addressing the deficiency of basic academic knowledge among SME operators in Iraq", he stated, adding "It also serves to bridge the marketing gap, facilitating the expansion of their customer base."
UNIDO emphasized that it plans to provide the same training with another group of 14 or more SME owners in Iraq. "Investing in SMEs is more than just fueling a sector; it's about shaping Iraq's future. These enterprises serve as catalysts for industrial innovation and progress," said Eduardo Moreira, International Project Coordinator for UNIDO. "They decentralize economic activity, spreading prosperity and growth from the urban centers to the most remote regions. Their importance goes beyond economics, it's a strategic imperative that brings jobs, sustains communities, building a stronger and more resilient Iraq."
The Safety and Hygiene Training Program for SMEs is being implemented by UNIDO with funding from the government of Japan under the "Emergency livelihood support to mitigate the food insecurity crisis among vulnerable people in Iraq" project.
UNIDO and Iraq are grateful to the government of Japan for funding various projects over the past two decades. Since the International Donors' Conference on the Reconstruction of Iraq held in Madrid in October 2003, Japan continued its financial assistance to the country. Assistance packages are comprised of billions of grant aid for immediate assistance with a focus on the recovery of living standards for Iraqi people (in the fields of health, water and sanitation, security, etc.) and loans to meet medium-term reconstruction demands (in the fields of ports, bridges, roads, oil facilities, gas power plants, and more).
The Government of Japan has also been a great contributor in recent years by providing assistance to thousands of people affected by conflicts. This includes entrepreneurship training and business startups, job training in the fields of hospitality and agribusiness, as well as supporting existing businesses in improving their capacity through UNIDO. These programs were successful in improving the lives of refugees, Internally Displaced Persons (IDPs), and vulnerable host communities in Iraq.
UN entities involved in this initiative
UNIDO
United Nations Industrial Development Organization