Press Release
Consistent funding from the European Union provides unwavering legal support to vulnerable Iraqis
07 November 2023
Baghdad, Iraq, 07 November 2023 :UNHCR, the UN Refugee Agency, is grateful for the continued support of the European Union through its Civil Protection and Humanitarian Aid Operations (ECHO) to assist Iraqis in getting their identity documents. For the third consecutive year, the European Union's assistance has helped provide civil documentation to vulnerable Iraqis including ones forcibly displaced by Da'esh violence and those who may have never had such identity documents before. Civil documents such as birth and nationality certificates and identity cards are pivotal for Iraqis to access public services and participate in the public affairs of their country.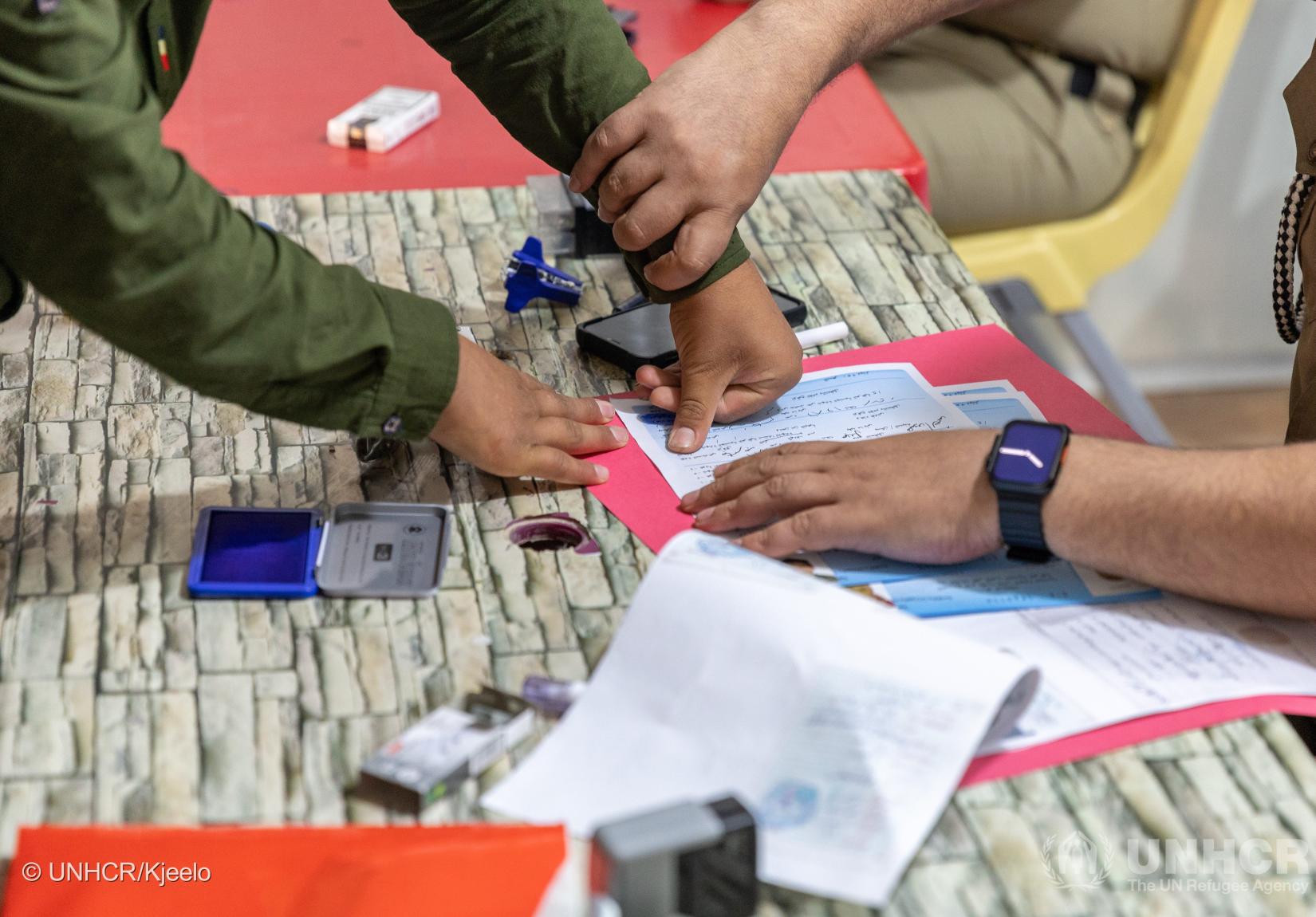 Many Iraqis have expired, lost or damaged civil documents due to fleeing violence, persecution and displacement. Others may have never had access to such documentation due to administrative and socio-economic barriers, making them at risk of being stateless if unable to prove their Iraqi nationality.
The importance of obtaining civil documentation cannot be understated. It is the first step for Iraqis to establish their legal identity and ensure they are recognised in their country. Without civil documents, Iraqis would not be able to enrol their children in school, receive medical care or apply
PLACE Baghdad, Iraq DATE 07 November 2023
for social security benefits. They will also be unable to participate in most aspects of civic and political life.
The European Union's steadfast partnership has enabled UNHCR and its partners, including two local organisations, to help Iraqis get access to civil documents through outreach and awareness sessions on topics related to the importance of civil documentation and how to obtain it; individual legal counselling for those who may have difficulties proving their Iraqi nationality, their marriage or the birth of their children; and the facilitation of mobile missions by the Iraqi Civil Affairs Department to deliver these documents to the most vulnerable across the country.
Over the past three years, almost 210,000 Iraqis have benefited from UNHCR and partners' assistance thanks to the European Union funding. From January to June 2023, more than 13,000 civil documents were issued to Iraqis and over 26,000 are waiting to be issued. In addition, 37,000 individuals received legal counselling or legal representation and about 11,600 participated in legal awareness sessions. Furthermore, UNHCR and its partners supported 40 mobile civil documentation missions.
Immense achievements have been made possible thanks to the European Union's generous funding; however, there are still needs. UNHCR estimates that over 430,000 individuals are still missing at least one core civil document. The main barriers for individuals to access civil documentation include the high cost of obtaining or renewing these documents and the difficult procedures that it could entail, especially for those being suspected of affiliations with extremist groups such as Da'esh or who are otherwise unable to legally prove their marriage, birth or lineage in court.
"The ongoing partnership with the European Union through its Civil Protection and Humanitarian Aid Operations has been instrumental in resolving some of the obstacles faced by Iraqis in accessing their identity documents. Supporting authorities to deliver civil documentation are interventions that are not really visible but that are truly indispensable so that Iraqis are not deprived of their fundamental rights such as enrolling their children in schools, accessing medical care or renting a home," said Mr. Jean-Nicolas Beuze, UNHCR Representative to Iraq. "As Iraq is moving towards stabilisation and development, it is great to see ECHO's support pave the way of this transition by ensuring that Iraqi previously displaced by Da'esh violence are fully integrated in public services and the Iraqi society thanks to having been given back their identify documents."
"Our continued support has played a crucial role in helping vulnerable Iraqis obtain their identity documents, which are key to accessing essential public services," said Mr. Pedro Luis Rojo Garcia, Head of EU Humanitarian Aid operations in Iraq. "Our partnership with UNHCR and local organizations has made a real difference in the lives of many Iraqis, supporting them to rebuild and reintegrate into society. We are committed to continuing our work in Iraq and address the remaining challenges to ensure that no one is left without these essential documents."
UN entities involved in this initiative
UNHCR
United Nations High Commissioner for Refugees